About the Latvian National Courts Administration
The Court Administration was established in 2004 and is subordinate to the Minister of Justice of the Republic of Latvia.
The Court Administration is a modern growthoriented state administration institution whose principal objective is securing administrative support for the effective operation and development of the courts and Land Registry Offices.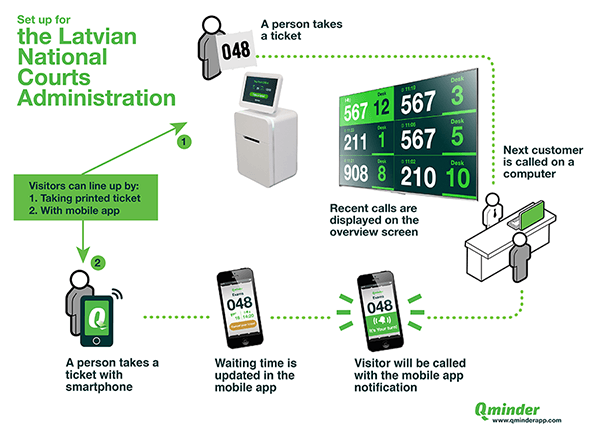 Solution
The Latvian National Courts Administration Latvia visitors can line up in two ways. They can take a printed out ticket or queue up remotely with the free Qminder mobile application.
Next customer employees call trough Qminder web based system. Recent calls are displayed on the overview screen but the Qminder mobile app will notify about your turn as well.
The Benefits
Qminder is innovative, modern and adaptable queue management system and suits perfectly for governmental institutions. It allows customers not only line up by taking a printed out ticket but remotely with free smartphone application. The app informs them about the waiting time and how many people are before them – all information is updated in real-time. Qminder will remind you with notifications even when your phone is locked and in your pocket.
With Qminder there is no software to download, server to maintain nor specific hardware at employee's work station. Tellers just log in trough any modern web browser and they are ready to serve customers. Learning Qminder takes just minutes without any specific knowledge.