About the National Blood Service of Latvia
The National Blood Service is financed by the State budget and subordinated to the Ministry of Health. All patients get blood components free of charge. Latvia is self-sufficient in blood components.
An essential part of the National Blood Service is quality of blood components, ensured by Quality System (QS). QS and joint information system are implemented in all blood establishments.
Why Qminder
Qminder supports blood donation community and idea to provide queue management software solution came up after donating blood ourselves. The wait time to donate blood is usually 15 minutes, but it can be as long as 45 or even more.
Qminder provides solution which others don't have. Director of the Blood Service of Latvia approves that donors and staff is happy to use Qminder managing waiting lines and like this modern and innovative solution.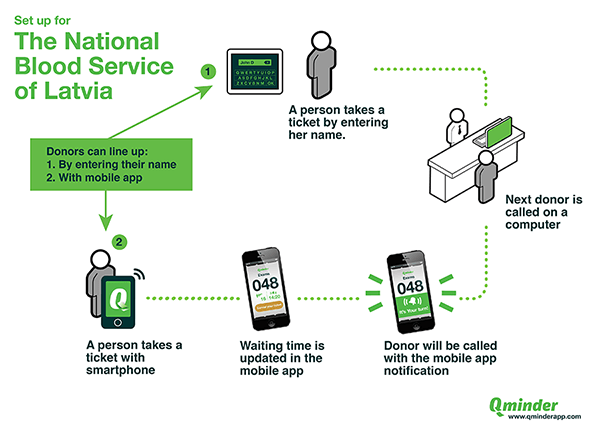 Solution
The National Blood Service of Latvia uses two way line up solution. Donors can queue up by entering their name into the Samsung Galaxy Note Android tablet or with the free Qminder mobile application.
Nurses call the next donor using Qminder web based management system on a computer.
The Benefits
Qminder is mobile and can be set up within minutes. Nurses just need to put up the stand with Samsung Galaxy Note Android tablet and it's ready to use. To use Qminder nurses don't need to download any software.
Previously donors didn't have an overview how long they needed to wait. Donors missing their turn was a regular problem. Now with Qminder these problems are solved.