Why Your Pet Care Business Needs a Queue Management System
Waiting is something that affects not only human customers, but animal visitors, too.
Implementing a queue management system at your veterinary clinic or pet shelter can help provide a more positive experience for both your four-legged clients and their owners.
As a result of using a queuing app, your business will reduce visitor wait times, raise their satisfaction levels, and also drastically improve your clinic's productivity rates.
But let's not get ahead of ourselves, and look at each benefit of a veterinary queue management system.
Benefit 1: It is easy to join the line from anywhere
Last year has shown us how fragile the system is. All it takes is one black swan event — something that exceeds our ability to forecast — and the entire house of cards falls.
Before 2020, queues were a predominantly physical space phenomenon. People were used to standing in proximity to each other, however emotionally taxing that might have been, and spend time in crowded waiting rooms.
But not anymore.
Pet owners, just like any other customers, wish safety for themselves and their pets. As such, in-person lines are no longer an option.
A digital queuing system helps get rid of that, by letting visitors join the line via scanning a QR code. This code can be displayed in your lobby, outside your premises or on your website.
This helps significantly reduce the stress from visits and put the visitors' minds at ease.
A bonus benefit is that visitors who have joined the virtual queue are free to wait wherever they see fit: at home, outside the pet care business, or in their cars. The empowering feature of digital queuing systems is that they eliminate the need for physical waiting areas completely.
And the reason why they don't have to worry about missing their turn will be explained in 3, 2, 1…
Benefit 2: SMS notifications and alerts
A veterinary queuing system is all about taking the chaos out of the waiting room, and making waits tolerable.
The guiding queuing psychology principle is that visitors need to always be informed about their waiting situation. Otherwise, they start perceiving wait times as long, and the wait time rules you've established as unfair.
SMS notifications are a component of queuing systems that help take the frustration out of the waiting process.
With SMS, you can notify your customers of their turn ahead of time, making sure that they're in time for their veterinary appointment.
Alternatively, you can use SMS text messages to simply chat with your visitors while they wait. This allows you to:
Build excellent rapport with your customers.

Inform them about any delays, postponements or cancellations.

Ask for valuable post-service feedback by sending them a link to a survey.
The last one is especially important, as continuous improvement is the name of the game when it comes to queue management in animal welfare. To illustrate this in full, let us move to the next big point.
Benefit 3: Queuing systems help with scheduling and staffing
A queuing system is, essentially, a tool built to help you understand the situation better.
On the surface, it allows you to understand your customers, by tracking every visitor interaction and keeping the log for you to see.
Every bit of useful information they've provided during the check-in process can then be used by you and your employees to make the experience even better and more personalized.
On the other hand, queue management software also helps you understand your employees.
Just like the system records customer interactions and footfall stats, it also monitors productivity across departments and locations.
You can get as granular with this information as possible, letting you see how each individual employee is faring. This presents you with good opportunities for staff training: if an employee struggles with serving customers fast, you can get to the bottom of it.
On a larger scale, this allows for more informed decisions when it comes to staffing and scheduling. Armed with actual information, you can deduce how you need to structure your workforce to achieve the best results for everyone.
Animal welfare demands speed and accuracy but also compassion. A vet queue management system helps you get all three.
Veterinary queuing in action: The Humane Society of Huron Valley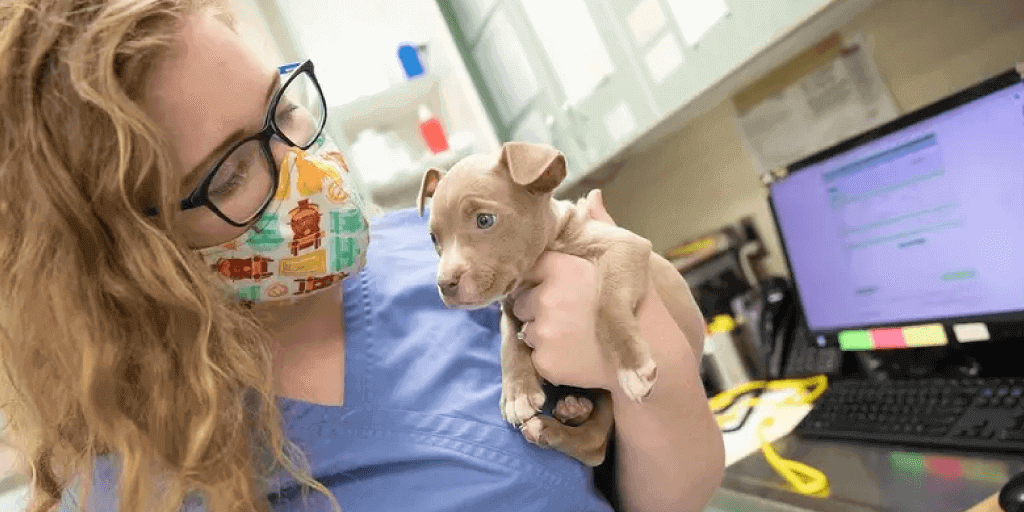 With over 120 years of experience, the Humane Society of Huron Valley (HSHV) is the bright example for other veterinary clinics and shelters to follow.
HSHV is the only animal shelter in Washtentaw County, so suffice to say, it gets a lot of attention from pet adopters and other shelters in need of help.
Yet, the Humane Society has the highest save and adoption rates in Michigan: over 14,000 animals are rescued each year, with 5,000+ pets adopted.
All of this — in spite of COVID-19.
How does HSHV do it without getting overwhelmed by visitors? How can they make sure that everyone stays safe while not compromising on wait times?
The answer is a veterinary queuing system.
HSHV's partnership with Qminder has made it possible for the shelter's employees to automate the processes they've been forced to manually manage before.
The new, remote check-in helped them eliminate the need for physical lines and a physical waiting space.
They've moved on to offering curbside service: visitors join the queue remotely and wait in their cars as specialists get ready to see them and their pets.
One of the advantages that has enticed HSHV was Qminder's intuitiveness. It required no technical knowledge to set up, and was deployed and taught to the team
If you want to learn more about the Humane Society of Huron Valley's use case, read our extensive success story.