How to Successfully Merge Offline and Online
As digitization and technology became an inseparable part of consumers lives, businesses also decided to direct their efforts towards online channels.
Meeting your customers where they are is key to customer satisfaction, however, this should not result in neglecting your offline efforts.
Yes, the digital age is here but, nevertheless, over 70% of consumers still named physical stores as their preferred shopping channel.
Online and offline is not a scenario of mutual exclusivity but rather an interdependent means for achieving success and for connecting them in a way that would enhance the customer's overall experience.
That's why in this publication we decided to talk about getting rid of the line between online and offline data and bringing them together in such a way that would help to see the entire picture of the customer journey.
We are joined by Larry Kim, the CEO of MobileMonkey, who will help us discuss such topics as:
Why is it necessary to integrate offline/online data? Any tips on how to integrate them?
What is the best way to collect customer data online?
How to collect offline data?
How to understand if your online activities influenced offline purchase or vice versa?
Importance of integrating online and offline data
Why is the integration of online and offline data important? Well, we gave you a little hint by saying that it would help you to see the entire picture of the customer journey, which is the first benefit you get with connecting the two.
Merging the data gives you a holistic view of your customer's behavior and their journey with your company. Having access to both types of data will help you see the processes and touchpoints that are crucial to your company. It is an important aspect of keeping up with the competition.
You should aim to understand every detail and every interaction of your customer for both online and offline journeys. This will show which processes go smoothly and which processes need enhancement.
Google explored around 3,000 customer journeys and showed how every customer journey is unique. However, taking a look at the touchpoints lets you see how important it is to have both an online and offline presence.
The examples show how after multiple digital touchpoints customers still prefer to finalize their purchase in the physical store.
When it comes to the online channel, it is easy to track your visitors, gather data, optimize the website and personalize the content. When it comes to offline, though, things are not as easy.
---
"You want your brand to have recognition, affinity, loyalty in the offline and online worlds. Fortune 500 CMOs agree that brand experience is the most important factor to optimize."
---
So how should you know if your offline brand experiences are satisfactory to the customer, or which aspects need to be optimized for further enhancement?
An offline data-tracking solution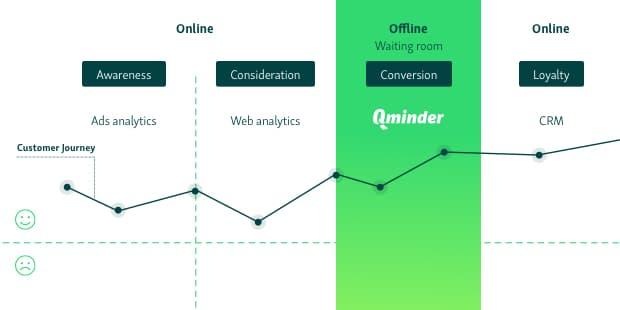 When we're talking about offline data, we mean the information that customer provides and leaves at physical locations (name, age and other personal information).
Before we jump to the solution, let's list the metrics you should be tracking to optimize the on-site experience and touchpoints of your customers:
Service data — foot traffic, customer's average wait time, time spent during the service, and the number of walk-outs.
Visitor insights — reasons for visit, visitor data (name, email, phone, etc.), and segmentations.
Staff performance — individual employee performance, time allocation, workload distribution.
History logs — detailed record of each visitor and interaction.
These real-time metrics give location managers the necessary details to making informed decisions. And all of these metrics are something Qminder, as a digital wait line management system, provides to its users.
With the help of Qminder, service locations can:
Gather the necessary data about their visitors: what their name, age, sex and email are.
Manage the workload of the store: measure the waiting times, reorganize waiting list, and distribute work between staff.
Track performance: identify how long it takes to serve the visitors and what the most common issues are.
Finally, offer personal service: serve customers based on their individual history and touchpoints.
---
"Make every touchpoint with your audience count. And of course, if you do have offline data, be sure to bring that into your marketing, sales, product, and CS teams."
---
We share the same vision as Larry. That is why Qminder focuses on customer experience and makes every touchpoint count.
Also, an important point is sharing your visitor insights with your team. Your whole team needs to understand the customer, since the customer is the main reason for your company's existence.
A platform like Qminder automates queue management, resulting in happier customers — and happier staff. The tool is designed for a variety of environments, such as retail, healthcare, government, education, and telecoms.
How to get online data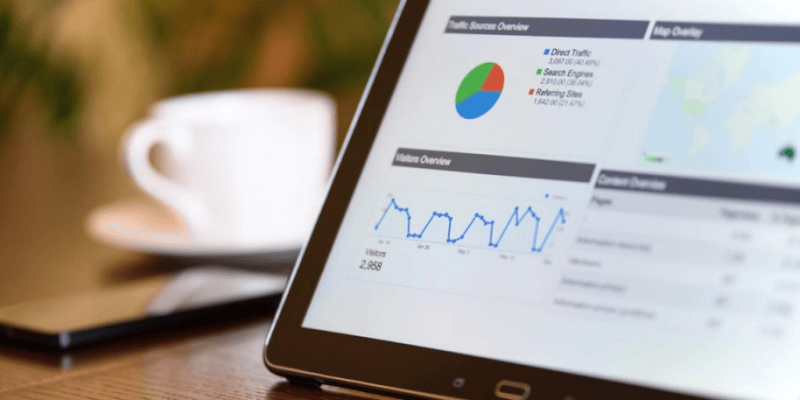 Online data is the set of information your visitors leave when interacting with your digital channels. These type of information can be:
Demographic — sex, age, race.
Geographic — data based on customers from a specific country, region, state, city or neighborhood.
Website engagement — number of pages visited, time spent on each page, first time or returning visitor, etc.
When it comes to the digital world, you are in luck. There is an abundance of tools that help you in understanding how your customers interact with your website and what actions they take.
You need to know how a visitor has found you. Was it from a social media ad, a redirection from a search engine or maybe a direct visit to your website?
One of the best tools for tracking your online visitors and helping you in getting a deeper understanding of your customers and their actions on your website is, Google Analytics.
Google Analytics provides both a free and paid version for its users. It is an effective tool for seeing the behavior of visitors on your website such as the specific pages they interact with the most, the duration of their visit on each page.
For example, you might be investing equal amounts of money in both social media advertising and search engine optimization. Google analytics will show you which medium brought you the most visits and hence optimize your activities accordingly.
If you find out that the search engine brings more desired results (visitors, leads, etc.) compared to social media ads then you should optimize more for that medium.
Another case is seeing the duration of visits on your pages. Google Analytics shows you what is the average time people spend on your page. Depending on your set goals, you can evaluate if the average time is satisfactory or needs further improvement.
The reasons for people leaving your page can be different (it takes time to load the page, the design is awkward for the visitor, the content is irrelevant, the message is not clear, etc.).
That's why it is very important to understand the reason behind quick website abandonment. The best way to get this information is through usability testing.
Hotjar is one of the tools that show you the insights about visitor behavior on your website for making the correct changes. With its heatmaps, visitor recordings, conversion funnels and visitor feedback you can see the flaws of your website and barriers that prevent your visitors to take your desired action.
---
"We use a 14-day and a 45-day customer NPS survey for starters. Marketing and product teams also regularly interview customers to understand how they are using our product and help us map out the future of the product and provide more of what's needed for success with the product."
---
Unity makes strength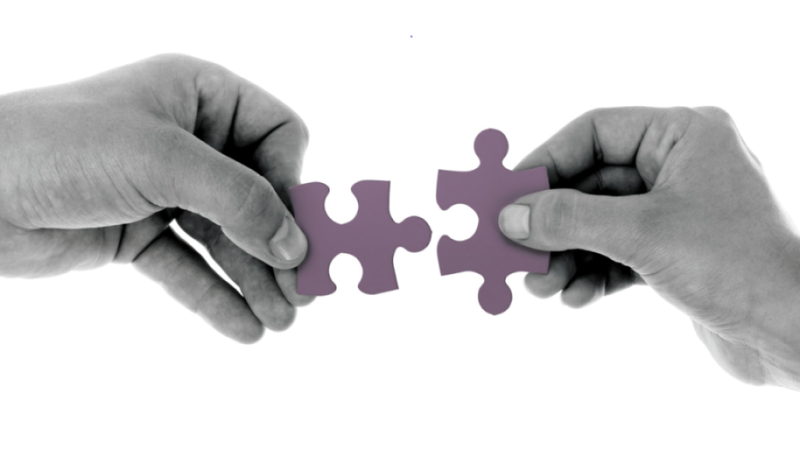 Having both online and offline data is, of course, helpful but if you want greater results, these two need to merge. Only after combining them will you be able to deliver the desired experiences and messages to your customers.
The importance of blurring the line between online and offline is more important now than ever as the average customer is going through cross-channel journeys when interacting with a business. Therefore, it creates an opportunity for businesses to optimize customer engagement at each touchpoint and, ultimately, gain more sales.
So how to connect them?
---
"Attribution, whether cross-device, cross-channel and online to offline and back again, is a challenge. But you will be able to see spikes, lifts and dips that correlate with large-scale campaigns.
A good campaign will bring a spike. A campaign can also backfire and result in a dip."
---
Yes, nobody said that connecting the two is easy, but nothing worth doing is. Still, it's far from impossible, which we'll show you with this next example.
Everyone, please meet David. David has both online and offline stores. He is tracking data for both of these stores but does not know how to merge the two.
To better connect with his online visitors, David decided to implement a newsletter sign-up call to action on his website.
This way it is easier for David to identify the visitor, have a potential buyer persona, and have a more direct communication line.
However, one of the reasons David decided to do this was to simplify the merging of online and offline data.
After signing up for a newsletter, a customer got interested in the product but decided to visit the physical store instead of the online one.
When arriving on site, the customer signed in with the Qminder queue management system and introduced her email along with the name.

The sales staff received the notification in Qminder dashboard and with the power of API, that lets Qminder to easily connect to a large variety of other systems and databases, connected the email with online data and hence got all the information about the customer that was available online.

After this, the sales rep could give the customer more personalized service and did not waste neither his or her nor the customer's time thanks to the Qminder API integration.
It can also be the other way — a customer's first touchpoint can be the physical store. Upon the sign-in via Qminder, they leave the details (name, phone number, and email) which can later be linked with online activities.
Qminder lets you collect the unique identifying data of your customers that can later be used for upselling or cross-selling purposes as well as for contacting the customer. This can greatly increase the speed and effectiveness of your service.
Start connecting
If the benefits listed above are not enough to convince you that connecting your online and offline data can:
Bring more value to your marketing activities
Help you further optimize the customer experience by a more complete view of visitors journey
Then you can try connecting the two for free and verify it yourslef!
Yes, you read that right. As we mentioned already, Google Analytics offers a free version which covers the online data collection aspect, but what about offline?
Ascertain yourself in the equal importance of offline data by having a first-hand experience with Qminder's by signing.
Qminder offers a 14-day free trial, no credit card required, that gives you access to service metrics, visitor insights, employee performance statistics, a record of each visitor and their interactions, plus much more.
(And unlike Google Analytics, the access to all Qminder features is unlimited for the entire duration of your trial period!)
About Larry Kim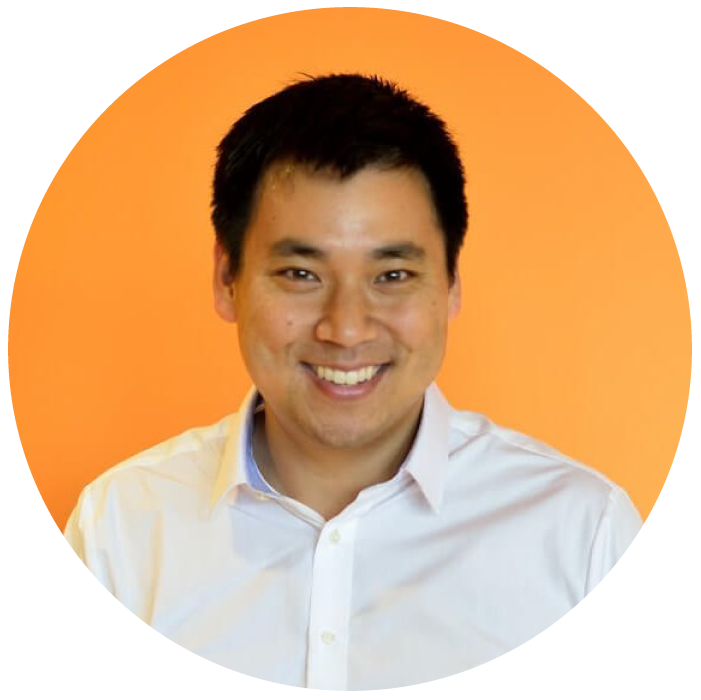 Larry Kim is the CEO of MobileMonkey, the World's Best Facebook Messenger Marketing Platform and free chatbot builder.
He's also founder of WordStream, Inc., the leading provider of Google Ads, Facebook Ads and keyword tools used by over a million marketers worldwide.
Larry is ranked the 8th most popular author on Medium. He's a contributor to CNBC and Inc. Magazine. He received Marketer of the Year awards from Search Engine Land, US Search Awards, and PPC Hero.