It's a Christmas Miracle: Improving Santa Queues
Taking photos with a mall Santa is an age-old holiday tradition. What's more christmasy than an image of a kid on Santa's lap, telling him which puppy he secretly wishes to have for X-mas?
Even though this tradition goes back decades, it doesn't seem to be waning any time soon. Father Christmas is as popular as ever, and this does come with certain drawbacks — say, overcrowded lines that could turn even the most devoted Santa fan Claus-trophobic.
Luckily, there is a way out, and many Santa photography services have started embracing doing things the digital way.
The Father Christmas economy
Acting the part of the big jolly man in the bright red suit is not all fun and games. It's effectively part and parcel of today's gig economy, with many mall Santa nowadays working as independent contractors.
In the United States alone, mall Santas earn between $35 and $50 per hour, which may add up to $20,000 revenue per season. Naturally, a wage like that sets up certain expectations — or a Santa code of conduct, if you will.
Santas are expected to uphold the carefully constructed brand image. Thus, some mall Santas have to make peace with children pulling on their beards.
More importantly, though, there is a constant pressure to increase visitor throughput while maintaining the feeling that all children are attended to.
Making each experience expedited but memorable at the same time? Even Santa Claus can't do some things on his own.
Saint Nick going digital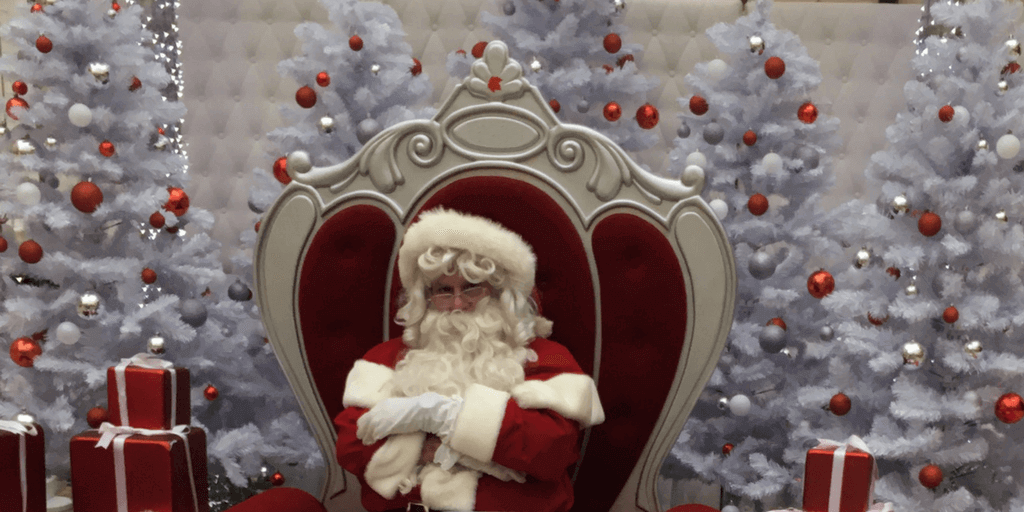 Adelaide's Santa deciding whether you were naughty or nice
Traditions may not have changed much, but the times have.
As a long-time provider of Santa photography, Adelaide Family Photography knows this like no other. The Adelaide Team works in collaboration with Burnside Village, a shopping center in Adelaide, South Australia, and has seen its fair share of X-mas troubles.
Adelaide's Santa Photography is aimed at kids, be they actual children or kids at heart. As taking photos with Saint Nick is an yearly tradition for many families, Adelaide Family Photography began running into the problem we've outlined above: lengthy lines, hard-to-get reservations, and overcrowded waiting areas.
What should be a fun memory for the entire family suddenly becomes a daunting experience. This is what Adelaide has been working hard to mitigate.
The solution came in a form of a smart queue management system. As the owner Dana explained, "We wanted a system that would make it easier for kids and their parents." And that system was called Qminder.
With Qminder, waiting lines are streamlined, with visitors themselves taking care of queues. Though it sounds like putting extra load on customer, it actually makes things much easier for everyone.
The way Adelaide does it is, there is an iPad at the entrance which visitors can use to join the virtual queue. It takes only a few quick button presses for the system to learn your name and your phone number. Then, right away you join the queue.
But instead of the usual waiting game, Qminder offers a much more pleasant experience. Its three main strong points are:
Easy setup.
Personalization.
Time-based notifications.
Easy setup

This is especially important for Santas who go independent. Not everyone has the luxury of hiring a team of professionals to handle queuing system.
Luckily, Qminder is not only easy to install, with its plug-and-play setup, but also easy to navigate. The oldest user as of yet is over 80 years strong — which is not quite at the level of Santa, but it's up there.
If that lady can handle working with Qminder on her own, so can any red-wearing jolly fella.
Personalization

Another bonus of using Qminder is how easy it is to personalize service with it.
The names collected upon sign-in not only serve to clear up the queue progress, but they can also be used for that extra personal touch. When a kid's turn comes, Santa or its little helper can call the kid by their name.
This simple action makes their meeting with Santa all the more magical and special.
Time-based notifications

The silver lining to meeting Santa in a mall is that, as you wait for your turn, you can spend your time browsing the stores and window-shopping.
Ever since Adelaide has implemented SMS notifications, its visitors gained freedom to roam about without worrying about missing their turn. The text messages inform the visitors of the queue progress and tell exactly when to return to the queue.
That means no more awkward waiting, pacing around and watch-checking. The added bonus is that this queue system looks organic and can be implemented without ruining anyone's suspension of disbelief.
All I want for Christmas is queue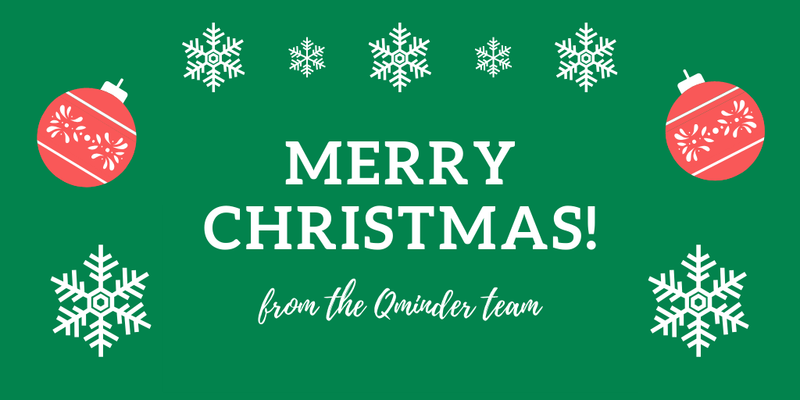 Not all heroes wear capes. Some of them wear Santa hats.
The Sensitive Santa initiative launched by Adelaide Photography in 2017 is alive and well. Children with special needs can meet Father Christmas without the usual hustle and bustle associated with queuing and waiting.
For once, there are no queues, which guarantees peace of mind for both kids and their parents. As
Service providers need to become more exclusive and learn how to manage customers with different needs — and mall Santas are no exception.
---
Christmas is the ideal time to experience sweet family moments, and Qminder is happy to help with that.
Want to help your customers experience the holiday spirit? Sign up for Qminder's free 14-day trial to have a jolly old time.
Try a Christmas-proof queue system