Santa Photography Virtual Queue System
Adelaide Family Photography is a long-time provider of Santa Photography around Christmas. They work in collaboration with Burnside Village, which is a shopping center located in the eastern suburbs of Adelaide, South Australia.
Santa Photography is aimed at kids and kids at heart. Getting a photo with Santa Claus is an annual tradition for many families, and limited photography hours make queue management a necessity. This is why Adelaide Family Photography first started with Qminder.
Searching for the Right Queue Management Solution
The entire point of taking a photo with Santa is to have a fun moment captured in a family's album. But this is made that much more difficult when there are long queue and wait times, which for an event as popular as Santa photos, is a certainty.
Most adults, much less children, can't handle mismanaged queues and long waiting. When you're taking a photo of your kid on Santa's knee, you want to see smiles not tears.
Even with the help from a conventional queue management system, this doesn't make up for a pleasant experience and risks causing children to make a scene. That's why last year, Adelaide Family Photography's owner Dana opted for digital queuing instead.
"We wanted a system that would make it easier for kids and their parents."
Dana's search for the right digital queue system ended with Qminder, which not only met their requirements but also offered a few extra perks. Adelaide Photography's test run with a new queuing system proved a resounding success, as they managed to shave off their visitors' wait time as well as improve the overall quality of their waiting experience.
A Closer Look at Adelaide Family Photography's Queue System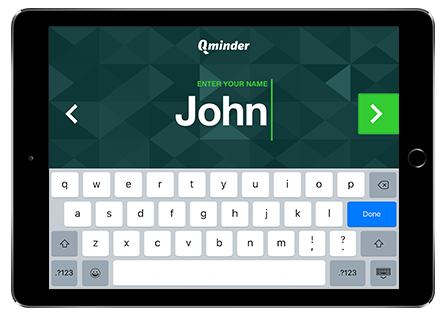 The way Adelaide Family Photography has set up their digital queues is not that different from the usual use case of the Qminder queue management system.
They've got an iPad at the entrance, which visitors use to sign themselves in, and a screen in their waiting area. Once a parent comes in, they enter their child's name and optionally a phone number, to take a place in the queue.
Visitors get a clear picture of what their present queue status is and what their estimated wait time is. They can check their queue status on a monitor or get an SMS notification on a phone number they've provided upon sign-in.
The simplicity of this system came with clear benefits:
Personalization
Time-based notifications
Better time management
Easy setup and intuitiveness
Personalization
The names collected upon sign-in are used both for clarity's sake as well as for that extra personal touch. Once their time comes, the kids are called by their own name, making it feel truly personal and magical. To them, the fact that Santa knows their name without asking is a clear sign of how all-knowing he is.
Time-Based Notifications
Adelaide Family Photography heavily uses Qminder's text messaging feature to inform their visitors of all the changes in the queue.
The first text notification arrives immediately after registration, confirming the phone number and a kid's place in the queue. The next message is sent shortly before it's their turn, notifying that parents should head back to the set to make a photo.
Better Time Management
The use of SMS, coupled with Adelaide Family Photography's location in a shopping center, presents a good opportunity for visitors. Parents and their kids can use the freed-up wait time to roam around different stores and departments.
There's no more awkward waiting, pacing around and watch-checking, which is taxing for parents and children alike. While Santa gets ready to greet a kid, the family can spend quality time together and not worry about missing their turn.
Easy Setup And Intuitiveness
Of course, the abovementioned benefits wouldn't matter if the process of setting up the system was time-consuming. Like most photo sets, Adelaide Family Photography can't boast a dedicated team of technicians, which is why easy setup was a must for them.
Qminder's plug-and-play style of setup proved ideal for Adelaide. The intuitiveness affected only staff but visitors as well. It is important that any new system be as clear to newcomers as possible so as not to scare them away, and Qminder has successfully passed this test time and time again.
Going Forward: Plans for Future Christmas
Christmas 2016 has been a successful holiday season for Adelaide Family Photography, not in the least part thanks to the Qminder queue management system. The data they've collected that year can now help them better prepare for the coming Christmas.
Starting from the holiday season 2017, Adelaide Photography promises to improve their waiting experience even more. They want to further personalize their SMS notifications content and tailor it to each unique case.
For example, they plan to change message depending on peak times and how busy the day is, to better notify their visitors of a coming turn. This bodes well with their policy of cancellation after a 30-minute no-show, making sure there are as few missed turns as possible.
Lastly, it's also worth noting that Adelaide Family Photography is a strong support of inclusivity, which is evidenced by their Sensitive Santa initiative for Christmas 2017. With Sensitive Santa, even children with special needs can grab a selfie with Santa and tell him their Christmas wish.
With the help from Qminder, Santa Photography can give families the Christmas memories they've always wanted.
Try Qminder Free