Tavex Exchange Retail Queue Management
Tavex is a leading precious metal dealer and currency trader with physical offices in all Scandinavian countries, Baltics, Poland and Bulgaria. The product portfolio of Tavex ranges from gold bars and 1oz bullion gold coins to 40 different foreign currencies, which indicates the unique business model the entity operates with.
Qminder was launched as a pilot project for Tavex in Denmark in 2016 to manage the continuously growing customer flow.
The limited physical capacities in a huge transportation hub in Copenhagen Central Station with an annual footfall close to 30 million, motivated Tavex to search for new and outstanding customer flow management solutions.
Since the location is also home to competing dealers and exchange points, Tavex also wanted more ways to differentiate themselves from the rest.
Finding the Right Queue Management Solution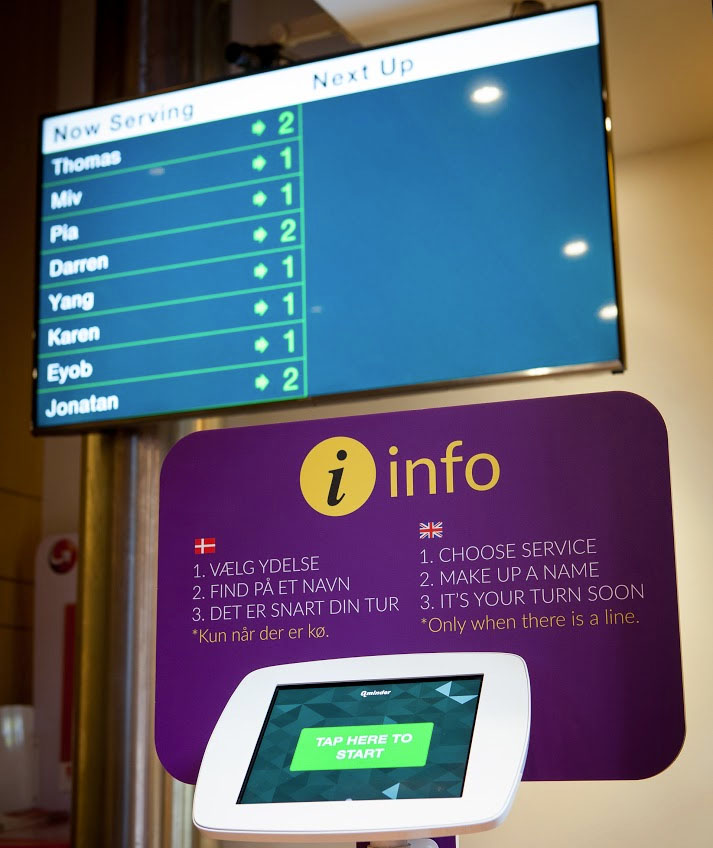 In the course of finding a suitable solution for itself, Tavex thoroughly mapped all the requirements the new solution had to meet. According to Sten Senkel, the CEO of Tavex in Denmark, the main five keywords in the decision making process were:
Prominence
Customer benefits
User-friendliness
Convenience and quick set-up
Increase in efficiency
In due course of considering various alternatives, Tavex became fascinated with Qminder:
"We really liked the revolutionary concept, that Qminder takes the customer service to a much more personal level. We can approach our customers by using their first name instantly when they approach our sales representative and that is a great advantage.

We agree that customers should not be handled as plain numbers, they are all individuals, who have certain expectations to us and to our services."
Prominence
There are other currency exchange points in the Copenhagen central train station and Qminder's turnkey queue management solution helps Tavex to attract customers in this competitive environment:
"Most customers have not come across this kind of system and set-up for service. Qminder's cleverly designed iPad screen sparks our customers' curiosity instantly and they think 'Wow, what is that awesome thing? I would like to try and see how this works'."
Customer Benefits
Enhancing customer experience at a busy service point is crucial also from the customer's perspective. Tavex aims to enhance their customer experience - make it more personal, convenient and fast for both their customers and customer service representatives.
User-friendliness
Qminder's queue management system is easy to use for everyone: visitors, staff and managers. The visitor self sign-in system is a straightforward process, even with multiple languages.
For the staff, managing the line is as easy as clicking a button. Managers can easily access location statistics, such as average waiting time for any day/week/month, with a few clicks as well.
Convenience & Quick Setup
Tavex believes in an easy setup.
"The system was super easy to install and is very convenient to use. There is no hassle with wires nor paper, and no special training needed for our customer service team to start using Qminder."
Increase in Efficiency
Weekly statistics newsletters help Tavex to see the broader picture of their service and also dive more thoroughly into details. After Tavex implemented Qminder, they have been able to recognize peak times and this has lead to a more optimal and efficient human resource allocation model.
"Being able to analyse the data from Qminder helps us to identify all the potential bottlenecks in the customer service chain. We can, on an on-going basis, monitor and compare the results of our customer service representatives, and tackle swiftly all challenges that may occur.

We have noticed that after implementing Qminder, the sales representatives' incentive to improve customer service has increased significantly. I find that an additional and remarkable bonus we obtained by choosing Qminder."
Want to provide exceptional customer experience while easily managing the queue? Sign up for a 14-day free trial of the Qminder queuing system.
Try Qminder Free