Christensen's Plant Retail Queue Management
How Christensen's Plant & Hardscape Centers Use Qminder
Christensen's Plants & Hardscape Centers (Christensen's) is a Michigan-based wholesale supplier of nursery stock and hardscape serving landscape professionals throughout the mid-west.
Christensen's offers landscape contractors one-stop shopping and help from their knowledgeable sales staff. Landscape professionals can find huge variety of in-stock plant material, various brands of brick and pavers, high quality pond supplies, and elegant and easy-to-install landscape lighting. Quick service, efficient shopping, and affordable price are what you can expect from Christensen's plant so you can go back and start on the job.
Christensen's has been a trusted supplier to the landscape industry since 1931.
Queuing Challenges
As a plant & hardscape wholesaler, keeping good connections with regular contractors so orders come back every season are often listed as top priorities.
To keep track of store performance and to note down contractors' info, Christensen's had a piece of paper for contractors to write down their names to sign in.
The sales team had someone to subsequently type that information into Excel and create reports.
When larger orders are placed, customers could have rather long waiting time.
Capturing customers' waiting time was another big challenge for Christensen's.
Queuing Solution & Setup
Christensen's found Qminder.
Qminder is set up with two iPads: one for visitors to sign-in and the other for sales persons to call the next customer.
"The customers walk in, and they sign themselves into the queue on the iPad. And it captures the time they arrive, and when the sales people pick them up, take them out to take care of them. They pick them up and it captures the time they got waited on."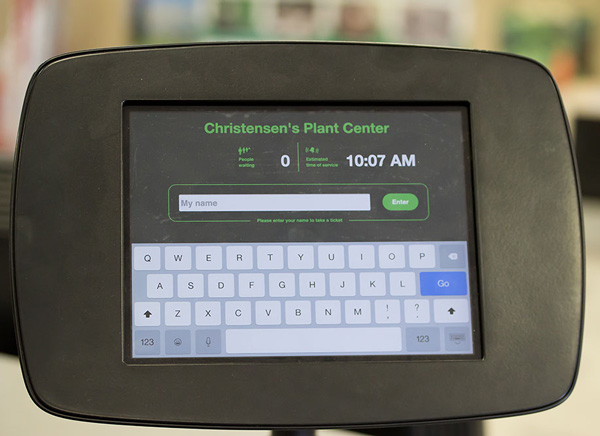 Queuing and Business Results
With Qminder, Christensen's serves 84 landscapers on average in busy season. All visitors' waiting time are neatly recorded and stored. Employees are happy to use Qminder with clients typing in all the information.
They are very happy to walk over and click the iPad and out they go… We use Qminder as a way to record the time, without having to type it into a spreadsheet and so forth. Qminder does all the heavy lifting, all the work for us.
Want to provide exceptional customer experience while easily managing the queue?
Try Qminder Free