How Your Queuing Strategy Affects Your Bottom Line
It's no secret that customers hate waiting in lines. In fact, 75% of customers will leave if they see that the line is too long, or if they have to line up longer than a few minutes.
Sadly, up to that point you had a sure sale — the customer was ready to buy, but lost interest because you could not provide the service fast enough. What's worse:
Customers who have an unhappy experience never come back.
These customers will also share their negative experience with up to 12 other people.
That is why queue management should be not just an afterthought, but a part of any business strategy.
And we're not talking about the old process of taking a number — this doesn't work, either. (Especially since customers are now used to instant gratification.)
You need to invest in a better, more efficient and modern queueing system. But once you do, you will get significant and measurable monetary results.
Turn a queuing problem into a sales opportunity
With the right queuing strategy, your customers won't mind waiting in line — and may even decide to shop some more!
For example, with a virtual queue system, you can add visitors to a non-physical line that wouldn't restrict their freedom and allow them to browse, or even shop, as they wait.
You can also turn the waiting line into a premium shopping stop via impulse purchasing, and add special merchandising that your customers can look at. This involves knowing which products they're more likely to need and buy on impulse, and how to display these products in an engaging manner.
Supermarkets are very good at using this strategy. Point in case: in-queue purchases contribute $5.5 billion in incremental sales.
Identify customer pain points
There are queues, and then there are queues. Some waiting lines merely leave a bad impression, while others can cause strong negative reactions that actually affect your brand reputation.
In Hong Kong, retailers lose up to $2.35 billion a year because of shoppers discouraged by long queues. $1.26 billion is lost explicitly due to long wait-to-pay times: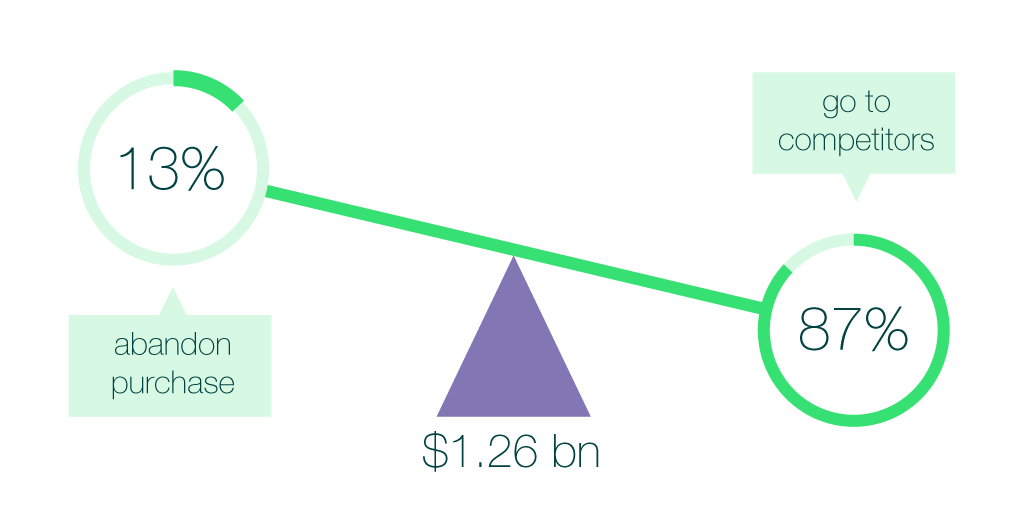 The customers stuck in frustratingly long queues won't just be bored, they'll be livid. They may think:
"The lines are confusing. I don't know where to go."
"Why is that line moving faster than mine?'"
"I was here first—why is that customer going ahead of me?"
"What is slowing up the line? This is so inefficient."
On the other hand, if the queue is properly managed, the experience may lead to an opposite, wholly positive line of thinking: "They have a lot of customers, yet still they manage the lines so well."
For example, some stores have seen an increase in customer satisfaction by having a single-line queue.
Other strategies used in banks or any stores with an online component is allowing complete some of the process through an app or a machine, and then just having it validated at the counter.
This not only reduced waiting times, but also helped lower overhead costs since less service representatives were needed to handle the crowd.
Create a good waiting environment
If your customers are comfortable and entertained while they wait in line, they're less likely to notice the time or complain about how long the line is.
For example, Disney's queuing strategy includes having a lot of digital displays. This not only gives free entertainment, but creates the opportunity to promote promos or future offers.
Other stores offer free WiFi or offer free drinks or snacks. Sometimes, they will distribute forms that allow customers to sign up for an exclusive contest or raffle, or get a coupon that they can already use once they reach the counter.
Provide customer assistance
Make sure that someone is available to answer questions and help customers go to the right line.
Customers will become more agitated if they discover they've been waiting in the wrong place, or if they are missing forms that they didn't even know they needed.
Thank and reward customers for waiting
Queuing management experts say that customers don't just feel angry about the line; they interpret this experience as not being valued. "Don't they want my business? Why are they keeping me waiting?"
So, one of the most important factors in an effective customer service system is to know how to make waiting customers feel that they are important to you. In this way, your queueing strategies can work hand in hand with personalization strategies, and other campaigns that improve customer loyalty and experience.
In one customer service report, shoppers have been polled to find ways in which retailers might improve the customer experience:
24% say retailers should offer extra loyalty points for those enduring long queues
21% propose rewarding customers with additional promotions, such as a free cup of coffee
10% are in favor of a fast track queue for VIP customers during busy periods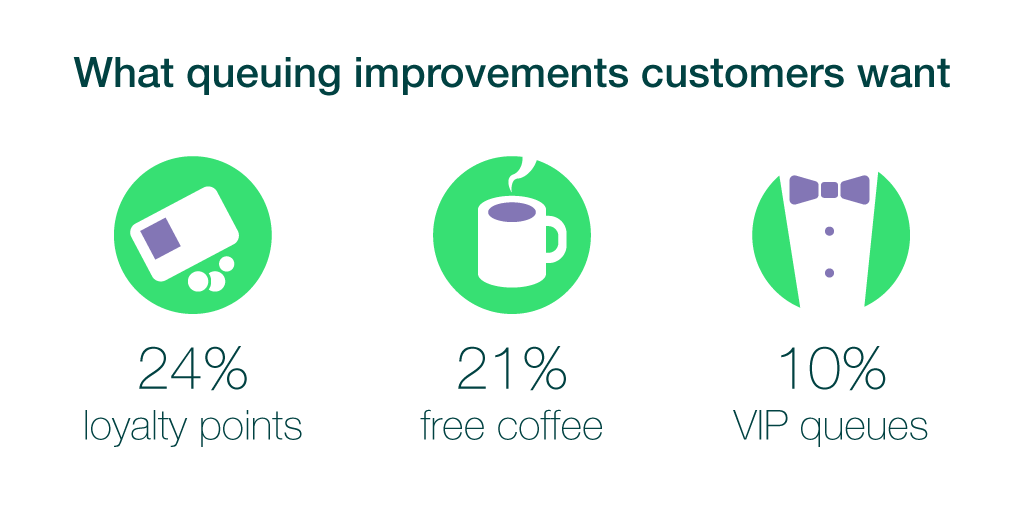 So these are your best bets on improving the waiting experience: reward customers with coupons, create VIP waiting lounges, and make special offers.
Find ways to increase speed and efficiency
Customer frustration can start to build up even before they wait in line. Look for ways to improve efficiency and improve customer experiences as soon as they step in.
Make it easier for them to find products, and check and compare prices, with their mobile devices or tablets. Provide exclusive in-store promos or services that they can't find online — this already makes them feel special, and reduces any frustration they may have while waiting.
Also, make sure you take advantage of the queuing psychology to make the wait feel less punishing. Let's review the basics:
Occupied waiting feels shorter, so give your customers something to do and distract themselves with.
Knowing the expected length of wait reduces the anxiety, so give your visitors the estimated wait time. (It goes without saying that you should stick to your own deadline, too.)
Fair queuing makes waiting feel shorter, so put concrete rules in place and don't let anyone cut in line or jump ahead.
Regular updates make waiting feel less frustrating, so be sure to provide timely updates on potential delays, cancellations, additional requirements, and more.
Q in "queue" must stand for quality
The most successful businesses use a combination of queueing strategies, in-store marketing campaigns, and sound customer service principles. Together, they can reduce customer frustration and churn, and help build a strong and positive brand image.
None of that works, however, unless you employ a truly robust queue management system. If you feel like your line management efforts are lacking, why not give us a call?
We'll talk you through your problems, find a solution together, and let you use Qminder for two whole weeks — with no sudden fees or cut features.
Still not convinced we can help you? Then schedule a demo and see Qminder in action.