Free Sign-Up & Sign-In Sheet Templates [PDF]
Do you need a free sign-in sheet template to record attendance at your store, event, workshop, conference, or class?
A sign-in sheet, or sign-up sheet, is a form used by guests and visitors to write down their names, contact information, time and date, and provide their signature (if required).
Sign-in sheets are used to measure attendance, track visitor traffic, obtain contact information of customers and guests, record employee work hours, and solicit feedback about the quality of service.
Although we heavily encourage you to use digital sign-in sheets, sometimes there is no way around it.
Whether you need a sign-up form for personal or business use, we've got you covered with our free, printable sign-in sheet templates (downloadable in PDF).
Free, printable sign-in sheet templates
The following sign-in sheet templates are for personal, private and company use. Feel free to jump to any sign-up form you need and download it for free.
Free visitor sign-in/sign-out sheet template (PDF)
A visitor sign-in/out sheet is the most basic and widely-used sign-in sheet. It allows you to collect the necessary information about the visitors entering the premises of your location: their name, time of arrival and time of departure, plus collect their signature.
This visitor sign-in template also includes an empty space for comments, which you can leave blank or fill with additional information.
Free patient sign-in sheet template (PDF)

A patient sign-in sheet is widely used by hospitals, clinics and other healthcare institutions. Patients, clients and guest sign their names, arrival time, and the time of their appointment.
A generic patient sign-up sheet helps track the flow of patients and guests, gather the arrival times, and note the duration of their stay.
Free event sign-up sheet template (PDF)

An event sign-up sheet is used to generate interest in and organize an event. With this sign-in template, you can keep track of the event's attendance rates, collect contact information, solicit volunteers or assign tasks.
An event sign-up sheet is an indispensible tool when it comes to planning any kind of events.
Free student sign-in sheet template (PDF)

A sign-in sheet for students is common among educational institutions. It's used to check attendance for a specific class and gather contact information in case of an emergency.
Whether it's for a university lecture, field day or a small elementary school class, a student sign-in sheet is extremely useful.
Free sports registration form (PDF)

A sports registration form includes columns for names of both players and their parents or guardians (in case of a sports event for underage). This template also helps collect contact information of players who want to volunteer at games, practices or team events.
You can also include additional information about the sports event at the top: requirements, practice times, etc.
Free volunteer sign-up sheet template [PDF]

A volunteer sign-up sheet is typically used by a non-profit organization to recruit volunteers for fundraising events or other charitable activities. This template allows volunteers to sign up for specific tasks, provide contact information, and note the date/time of their availability for said task.
Although a simple sign-up sheet, this template is of huge help when you need to organize volunteering.
Free potluck sign-up sheet template (PDF)

A potluck is a gathering where each guest promises to bring a different, often homemade dish. This potluck sign-up sheet allows you to quickly gather the names of participants, their contacts, and the dish/ingredients they plan to bring.
If you want your potluck to go off without a hitch, you need a potluck sign-up sheet.
Although we've covered a lot of sign-in sheet examples, there are many more out there, such as a meeting sign-in sheet, parent-teacher conference sign-in sheet, open hours sign-up sheet — and more.
Rather than look out for specific sign-in sheet templates, you can simply switch to an electronic sign-in sheet, which is a more efficient solution both in short and long term.
Electronic sign-in sheet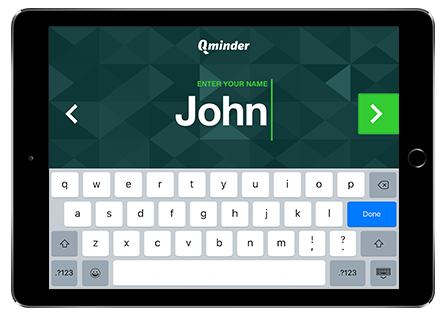 An electronic sign-in sheet allows visitors to sign in with privacy in mind, and organizations to collect waiting time and serving time information. No more trying to read illegible handwriting on paper. Get all the data in a few clicks.
Electronic sign-in allows you to greet visitors as soon as they walk in. It's a platform where all your visitors can sign in by themselves. The staff can also act as "greeters" to welcome visitors individually. Get visitor data with an electronic sign in sheet.
Another benefit of replacing paper sign-in sheets, is that the record lasts forever. Ink fades away, and paper deteriorates over time. Not data.
Printing paper and wasting time on trying to read illegible handwriting costs you money.
Get access to digital sign-in. Save hours of valuable work time and get automatic reports.
Try Qminder Free