Web-Based Queue Management
Web-based queue management systems, also known as online queue management systems, are the way to manage the visitor traffic via digital sign-in and online databases.
The "web-based" part in their name refers to their requiring no expensive equipment or infrastructure. They operate in a browser and are capable of managing multiple locations and services at the same time.
Thus, web-based queuing systems suits businesses of all sizes and needs. If you have more than one customer visiting at any one time, you need to manage queues — and there is no better way to do it other than to employ web-based queue management.
Why web-based queue management systems are better
The superiority of web-based queue management systems comes from their power to reducing the waste, period.
Firstly, no paper waste. Web-based queuing tools don't use paper tickets, so they don't require refilling ink and paper rolls.
As a result, it is a much greener solution.
Secondly, no labor waste. Qminder is less labor-intensive: there's no software to download, servers to maintain, nor proprietary hardware to rent at your workstation.
Thirdly, online queue management tools are more flexible.
Just to showcase how flexible and easy it is, we wanted to go over some of the best features that you can use. You simply log in from your browser and manage the line from there.
Calling and managing visitors with web-based queue management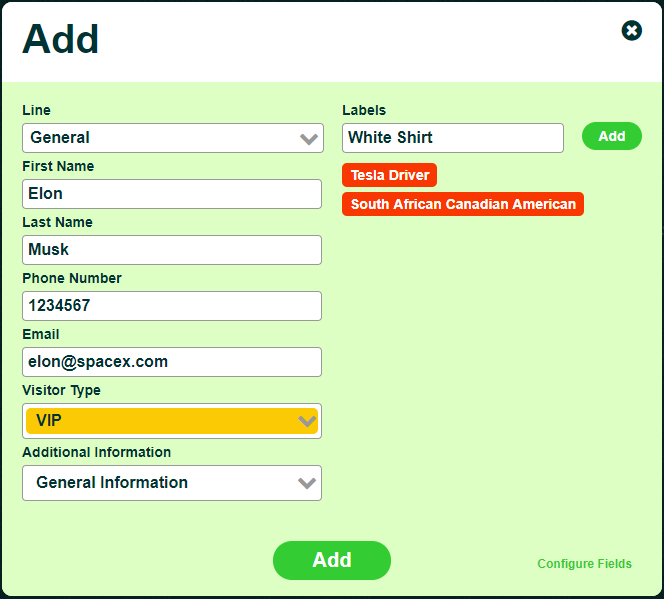 This can be the perfect feature especially if your visitors are greeted by a person instead of iPad kiosks. What service do they need? Do they have the correct documents? Should they queue up at all?
Every visitor is different and every service is different.
Some visitors require more face-to-face time, while others are happy to go through an automated process. You also have special requirements for certain services.
Here we can give the frontline employee the power to decide and help.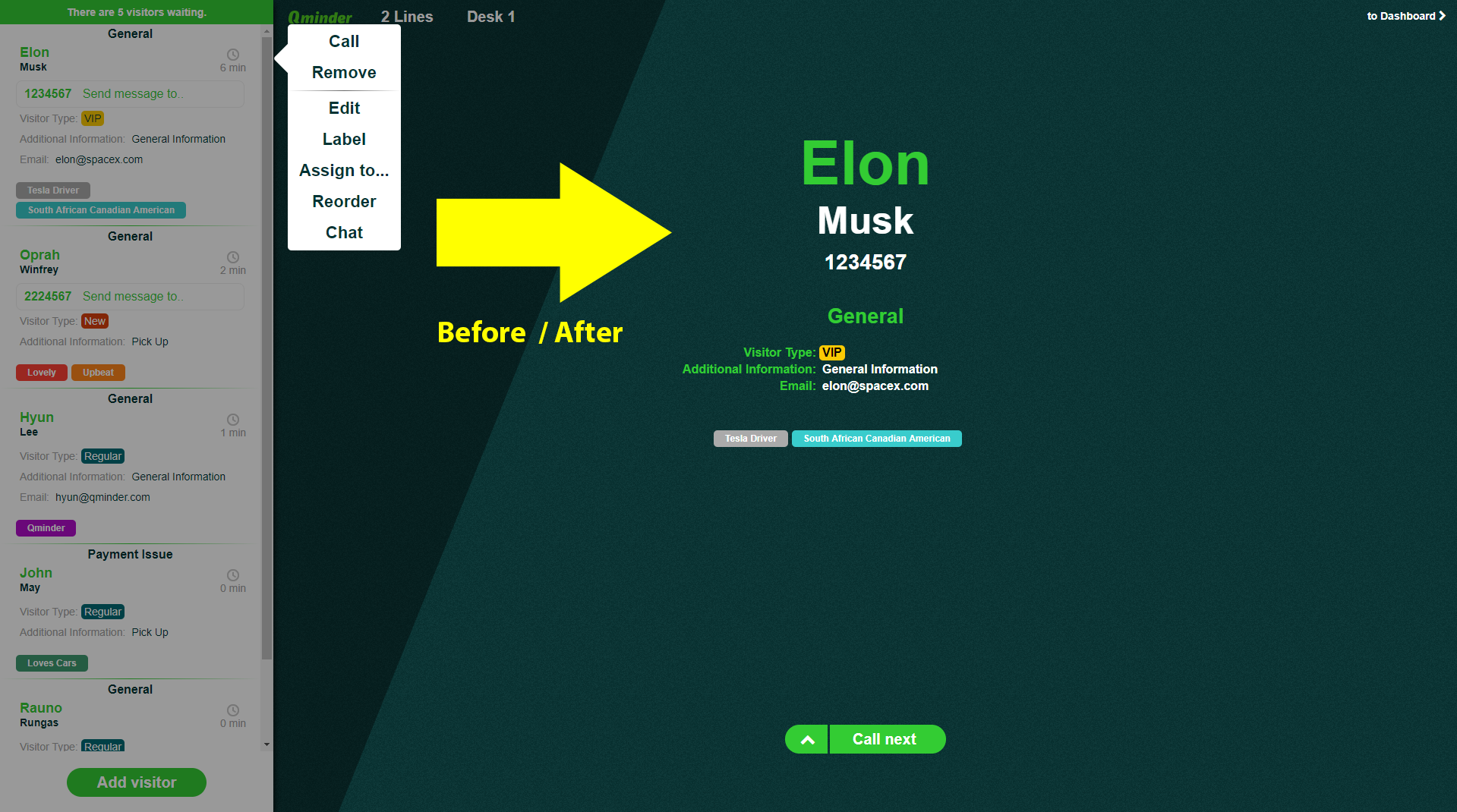 There are different ways to call and visitors.
Click on the visitor's name on the left-hand queue log, and then CALL. This way, you can choose who to call, in case of top-priority visitors.

Click CALL NEXT. This will automatically call up the next person on the waiting list.
If you need a short break in between serving customers, to have your cuppa joe or finish paperwork, click FINISH SERVING THIS VISITOR instead. This will end the service without calling up the next visitor, giving you time for other tasks.
Thanks to the digital waitlist, you can also call and service people out of order.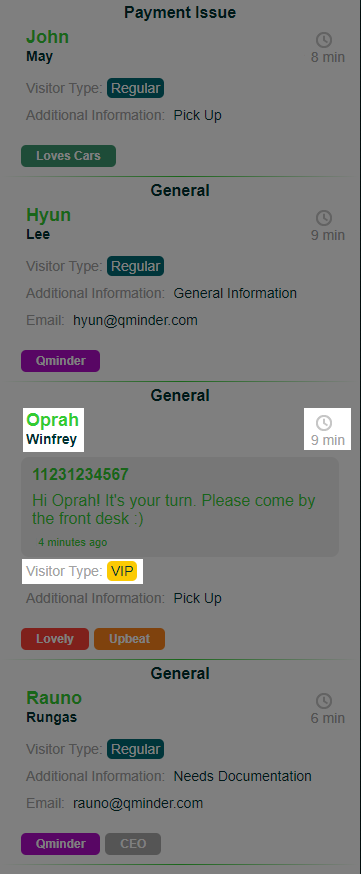 Depending on your location and what service the visitors need, a first-come-first-served order might not be the best approach.
Qminder lets you see who is currently in line, how long they've waited, and any other relevant information. It is up to you to decide whom to call next.
Managing different queuing and service scenarios
Sometimes, things are a bit more complicated than "call a visitor, serve them, then call the next one". There are almost as many unique service cases as there are customers.
To help you navigate across the complicated field of customer service, there is an arrow sign next to the CALL NEXT and FINISH SERVING buttons.
Click on the arrow, and you will see a list of six options which cover a wide range of possible scenarios:
CALL AGAIN. This resends TV and SMS notifications to the visitor you're about to serve.

NO SHOW. This marks your visitor as missing.

RETURN TO QUEUE. This returns the visitors back to the queue.

ASSIGN TO. This assigns the visitor to another clerk to handle their case.

FORWARD. This moves the visitor to a different queue.

REMOVE. This removes the visitors from the waiting list.
Keep in mind that all the information is saved. Export it and use Qminder's service intelligence to enhance your existing services and offerings.
Click-to-text SMS communication with visitors
There is no bigger nuisance than having to download an app just to be able to ask a simple question.
In times like these, when issues arise on a 24/7 basis, keeping communication channels open is vital, but having this communication be app-based is wrong.
Qminder provides SMS texting capabilities. Our SMS chat makes your visitors more engaged with you. They don't have to download or install anything, and it's convenient for everyone.
The use-case varies from place to place:
Your location is too big. You can't possibly have TVs everywhere to show the queue status.

Your waiting area is too crowded. It's too chaotic and would prefer if people didn't surround your staff.

You care about visitor experience. You prefer to have visitors freely walk around instead of trapping them under queue belts and barriers.

You want to stay in touch with your visitors. Whether it's for quick updates or simply to check in on someone - you can now do it easily.
SMS also allow you to follow up on the service you've provided. Feedback is the lifeblood of business excellence, and knowing how and what your customers are feeling is something you can't do without.
If you want to see what a good web-based queue management system is capable of, look no further than Qminder.
Want to see it in action but not ready to commit? Sign up and try the full product for 14 days. No card needed, no risk, no commitment.
Try Qminder Free