Best Sign In Sheet For All Uses
In many organizations, visitor sign-in is a crucial part of everyday operations. The sign-in allows visitors to share the reason of visit, names, date and time, and any other additional information that you want.
There are two types of sign-in sheets: digital and paper. Learn about the differences, or try them out yourself. It's worth noting that digital versions are easy to use and filled with data - with reports to help you keep track of all sign-ins. With paper, it is an tedious process of not only inventory management but data management.
Electronic Sign in Sheet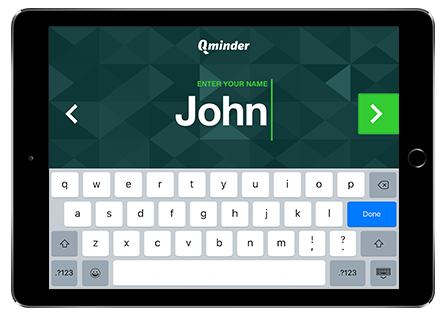 An electronic sign-in sheet allows visitors to sign in with privacy in mind, and organizations to collect waiting time and serving time information. No more trying to read illegible handwriting on paper. Get all the data in a few clicks.
Electronic sign-in allows you to greet visitors as soon as they walk in. It's a platform where all your visitors can sign in by themselves. The staff can also act as "greeters" to welcome visitors individually. Get visitor data with an electronic sign in sheet.
Another benefit of replacing paper sign-in sheets, is that the record lasts forever. Ink fades away, and paper deteriorates over time. Not data.
Printing paper and wasting time on trying to read illegible handwriting costs you money.
Get access to digital sign-in. Save hours of valuable work time and get automatic reports.
Paper-based sign in sheets are more trouble than you assume. First, you must find a printable sign in sheet (which we are providing, for free). Then, you must keep printing the sign in sheets every single time you need it. If you have a lot of foot traffic at your location, it may be more than once a day. If you are a teacher, you surely have to print these out every day.
The most painful part about paper sign in sheets is…
You are responsible for analyzing and maintaining the data.
We live in an age where everything is digital. Reports can easily be made and in your inbox in a timely fashion. If you choose to use a paper system, you are choosing to waste time researching, printing, analyzing, and calculating. Not to mention the logistical nightmare of keeping all papers you're printing out.
All things said, if you like wasting paper, and more importantly, your valuable time, scroll down to download your sign in sheet template.
Sign in Sheet Template
Free sign in sheet template downloads in PDF, Word, Excel and Google Docs. If you were looking for a printable version, you can download them here. We offer various sign in sheet templates in popular formats. Our templates are printable in A4 format for ease of printing.
Visitor Sign In Template

A visitor sign in sheet allows visitors to sign in using simple fields such as name, comment and time in. A more detailed form may be visitor sign in/out template which is available below. This is the most basic and widely-used sign in sheet. An all-purpose design is used for this specific template, so you can make use of it in all cases.
Visitor Sign In/Out Template
This template has an additional field where visitors can write down what time they are signing out. This is similar to a visitor sign in template, but neatly packaged so you don't have to make any edits to the file above.
---
Patient Sign In Sheet Template

If you are an organization in health or medical industry, a patient sign in sheet is a must. Visitors can sign in to a patient sign in form and become a registered patient. Our patient sign in form includes names, doctors' names, first time visitor status, time in/out. A generic patient sign in isn't so flexible, while an electronic sign in sheet would easily allow you to ask visitors for more details.
Medical Sign In Sheet Template
A medical office of any kind must have a sign in sheet, electronic or paper-based. This allows visitors to share their information with your office. By HIPAA laws, there are certain steps to take before using a paper sign in sheet. With Qminder, you can easily identify all your visitors and call them by first name - thereby avoiding any lawsuits and fines.
---
Student Sign In Sheet Template
A sign in sheet for students is common among educational institutions. Whether it's for a university lecture, field day or a small elementary school class, a student sign in sheet is needed to keep track of class attendance.
Electronic Sign-In Sheet
As mentioned before, an electronic sign-in sheet could improve your services while making work easier for the staff.