La Cité Student Management
Last updated on 8 August 2019
La Cité, or The City College, is a French-language community college based in Ontario, Canada. It offers over 90 programs to 5,000 full-time students from Ontario as well as other parts of Canada and foreign countries.
La Cité has been consistently ranked high for its exemplary student satisfaction and learning experience. The Ministry of Training, Colleges and Universities awarded La Cité for the quality of its facilities.
This, along with high graduate employment rate, is the greatest evidence how much La Cité cares about the experience of its students. That's one of the chief reasons why the administration decided to partner up with Qminder — to further improve student experience.
In search of a better queuing solution for students
With over 5,000 students — most of them needing help with enrollment, classes, finances, etc. — La Cité experienced great crowd management troubles.
The system they have been using before — some outdated ticket-based queuing tool — barely helped manage the students and caused a number of technical and cost-related issues.
The students who came to the admissions office to solve their questions about events, payments, food menu, or guest speakers were exposed to lengthy wait times. This was bad in itself, but when coupled with the fact that the life of an average student is already filled with waiting, this situation spelled disaster.
Perhaps the biggest issue, however, is how impersonal the previous system felt. In universities and colleges, where using first names is par for the course, suddenly switching to numbers feels cold and devoid of empathy.
Not to mention, a pen-and-paper method of sign-in is not exactly known for being a "green" solution. As Catherine Sainte Marie, a recruiting manager at La Cité, put it:
"We are eco-friendly, and didn't want to use so much paper"
La Cité and Qminder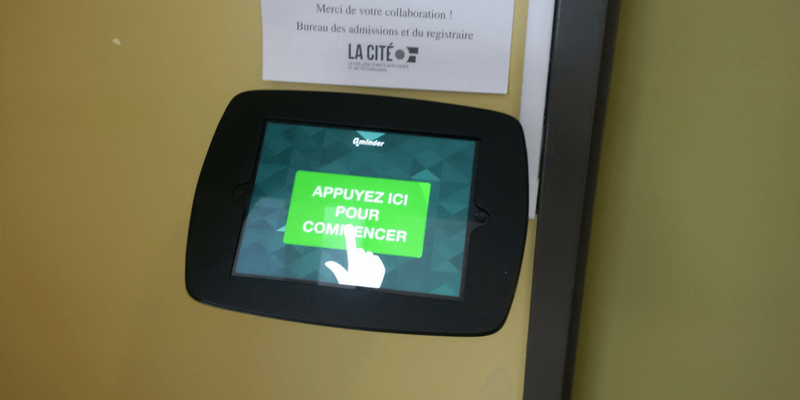 The administration at La Cité has been searching for an better alternative for a while, and when they found Qminder, they realized it was exactly what they needed. The positive effects were immediate:
"Compared to last year, when we had two-hour wait times pretty much every day, with Qminder we were able to bring it down to around 61 minutes on average."
So how is the Qminder system set up at La Cité?
There are several sign-in iPads installed in the admissions office, enabling students to queue up by entering their name and student ID.
In addition to that, several Qminder TVs is set up to show the waiting list and the waiting turn notifications. There are three TVs in total: one in the waiting area, one in the front room of the admission office, and the third one inside for internal use.
The staff of admissions office counts 10 full-time employees, with several part-time volunteering employees during peak busy times — for example, at the end of semester.
Easy setup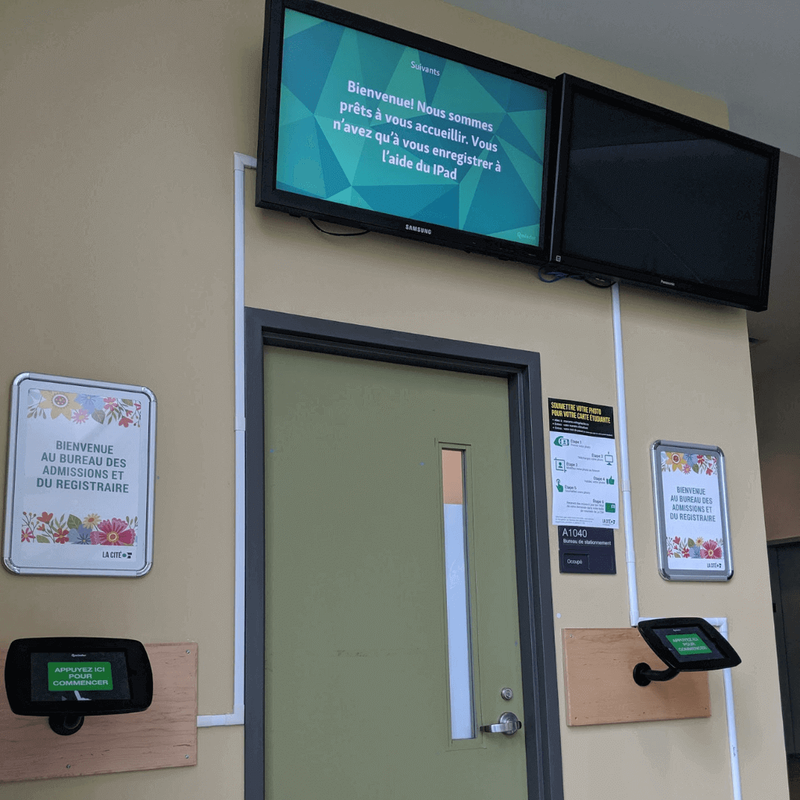 One of the biggest Qminder's draws was its easy implementation. There's no software to download, and the staff can use standard PCs to manage the waiting list.
Thanks to the information that students themselves enter into iPads, by the time someone's turn comes up, the office already has full information about the student: their name, ID, and the matter they wish to resolve.
No special training was required to get the staff up to speed — everyone was able to pick up new tools in a matter of minutes.
"We really like that we don't have to call tech support every day – it's easy to create new users, change the lines and services."
User-friendliness
One of the major perks of Qminder is the ability to add instructions in different languages. This comes in especially handy for colleges like La Cité, where there are many students from abroad. Qminder's intuitive use helps ensure equality and accessibility.
Speaking of intuitiveness, even students with limited technical knowledge are able to use Qminder with no hiccups.
Tapping into the power of data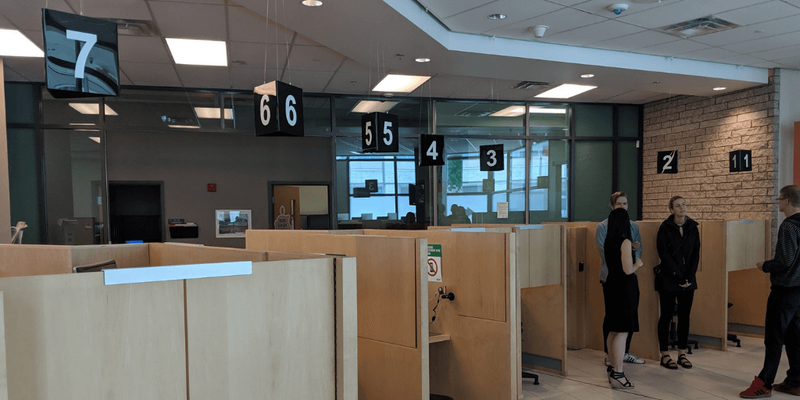 The last, but not least, feature that La Cité takes advantage of is Qminder's ability to capture and analyze visitor statistics, such as wait times and service times taken per line or clerk.
This data is of great help when the administration needs to decide how to organize the processes at the admissions office. That is, managers can know when they need to train their staff or recognize someone's efficient work.
Historical data allows to compare present data to that of last year's. Staying ahead of the curve is as important in schools as it is in retail, and La Cité pulls it off magnificently.
---
The greatest fear when trying to implement anything new is that the innovation will be a hindrance to less tech-savvy customers. However, once La Cité overcame this fear, it was rewarded greatly for this decision:
"The process has been seamless. We have had so many positive comments.

You know, sometimes you think, "Will this make a difference? Will it have an impact?"

But then we have a customer in front of us, and instead of calling them by number, we call them by name. You see that they recognize that how well they've been treated, and the look of a pleasant surprise on their face is the confirmation that we've made the right choice."
It's never too late for learning. Take a few lessons from La Cité and give Qminder a try.