Travelwise Visitor Management Solution
Founded in 2005, Travelwise is a Dominican company that specializes in providing personalized travel tours, including excursions, cruise trips, hotels, and corporate trips.
Adamant about providing superb customer experience and satisfaction, the company has been recognized as a the "Top brand in the Dominican Republic".
Here is how Travelwise managed to provide pleasant and efficient customer service to its clients on one of its expositions.
Travelwise and Travel Expo
Travelwise is the only agency in the Dominican Republic that became a member of a prestigious network called Virtuoso that connects travelers with the world's best luxury travel advisors and hotels. Likewise, Travelwise is a local partner of BCD Travel, one of the biggest corporate travel management companies.
Being a part of such reputable networks does not come easy. The company managed such success thanks to its remarkable customer satisfaction, the best evidence of which are exclusive travel expositions organized by Travelwise.
The agency wants to ensure that all travel enthusiasts have the freedom to meet, interact and exchange travel tips as well as experiences with each other. To that end, Travelwise provides Travel Expo, a travel fair, at least once a year. Apart from participating in socializing activities, attendees can also purchase plane or cruise tickets, and take part in international excursions as well as vacations on national resorts.
One of the main priorities of Travelwise is to satisfy its customers needs. As it's a part of some of the largest international networks, there is a high number of attendees expected daily — all in all, around 1,500. This, of course, meant that the company needed to make sure that the volume of visitors would not interfere with the flow of the event.
Travelwise understands that its clients prefer making travel plans with trusted representatives, and there is no better way to earn someone's trust than to make their life easier. That's why Travelwise decided to employ Qminder services — not only to better manage their events and crowds but also ensure that everyone gets treated in a fair and pleasant manner.
A New Approach to Queuing: Qminder Steps In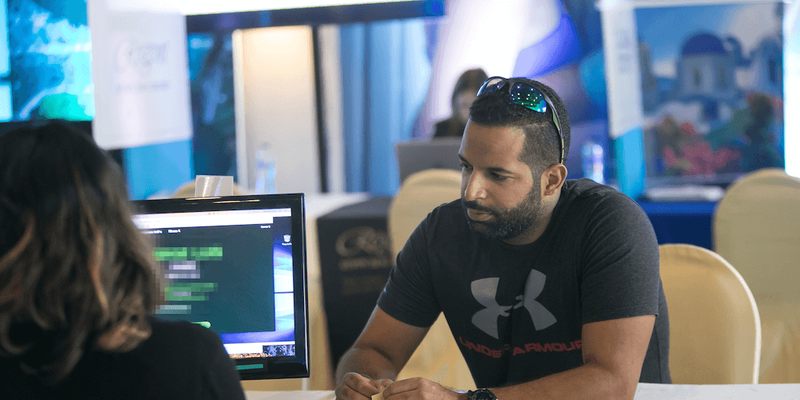 For Travelwise, one of the main motivators for using Qminder was its Application Programming Interface (API) integration. This integration allows a business to manage the interaction between two digital programs or websites.
In the case of Travelwise, this meant that they could integrate their Customer Relationship Management (CRM) software with Qminder. In other words, when a customer is registered in the internal CRM software, all the relevant client information is automatically synchronized in Qminder.
Wellington Villegas, Systems Development Manager at Travelwise, mentioned that there are two important principles when it comes to a guest check-in system for Travel Expo. One is to ensure a comfortable and seamless customer experience and the other is to enable employees to focus on servicing customers and to free them from doing repetitive, manual work.
Following these guidelines, Travelwise implemented an API integration with Qminder and its internal CRM software which made the check-in journey more comfortable for both customers and employees, resulting in service representatives greeting customers at their arrival and asking for all the relevant information.
After that process the employees did not have to worry about asking customers the same information various times, while guests were free from wasting time providing same details to other representatives (since the details were already integrated with Qminder) and could enjoy the performance shows, as well as some welcome treats and beverages until their name was called on the screen.
Another Qminder feature that interested Travelwise was customized SMS notifications, or the ability to send welcome text messages to guests upon their registration. In the context of large expos, this allowed to give Travelwise visitors a peace of mind as well as exhibit some personality behind the brand.
Travelwise Reaps the Customer Service Benefits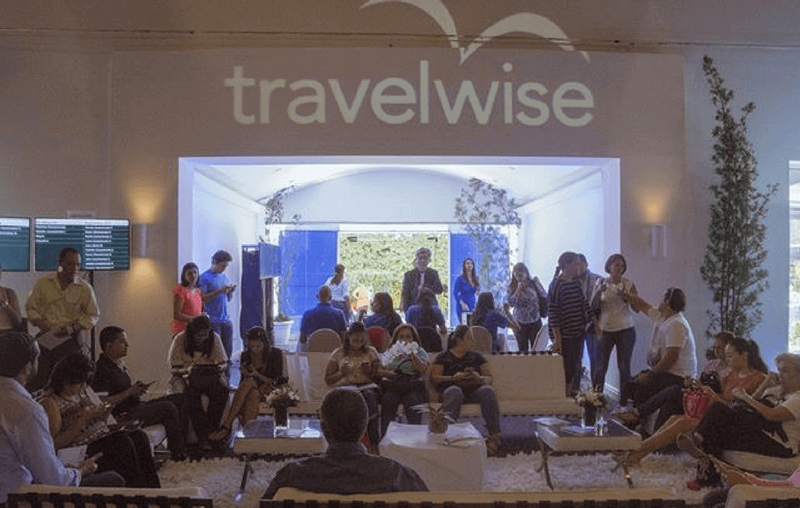 Image courtesy of the official Travelwise Instagram
The initial test run of Qminder left good impressions, and Travelwise decided to continue using their new system. With the help of Qminder, the company finally got the means to better understand their visitors, including which services were in the most demand.
The creative use of the Qminder system led to unearthing some surprising side-benefits. For example, the access to, and a clear breakdown of, customer data allows Travelwise to calculate their ROI (Return on Investment). That's in addition to all the performance metrics that are already baked in the system.
Not to mention, the pleasant and simplistic design of Qminder waiting list made the process of queuing up clear, straightforward and, more importantly, enjoyable.
Of course, none of the benefits would materialize if Travelwise did not understand the value of excellent customer service and wasn't always on a search for innovative solutions to its challenges. Qminder is just one such solution whose values and outlook on the importance of customer service aligned with those of Travelwise's.
---
With the customer-oriented mindset and help of Qminder, Travelwise managed to keep its customer satisfied while also acquiring useful insights to assist them in making these experiences and events even more enjoyable in the future.
Want to delight your visitors the same way as Travelwise? Give Qminder a try.
Try Qminder Free