GDT Visitor Management at Cisco Live
Founded in 1996, GDT is an international IT solutions provider that specializes in consulting, designing, deploying, and managing of advanced technology solutions for many industries, including retail, government, energy and healthcare.
As the provider of IT innovations, GDT like no other company understands the power of technology. Paired with the Qminder visitor management app, they manage to not only deliver consistently great experience but also bring it to another level.
GDT Booth Experience at Cisco Live
GDT is one of the largest Cisco integrators in the US, and they attend annual Cisco Live events to reach out to new audience and surprise their fans.
On June 10-14, 2018, GDT held another booth at Cisco Live. On their Cisco Live promotional page, GDT summed up their philosophy as "doing it bigger and better each year" — and their booth at Cisco Live 2018 is the best example of that.
Not only their two-story booth featured the standard programme — videos, live presentations and discussions — but also a cutting-edge Ferrari simulator.
Equipped with razor-sharp displays and a Ferrari-designed seat, this simulator provided the experience of driving the Ferrari 458 sports car. The booth visitors would not only receive the adrenaline rush but also compete for daily prizes (Xbox consoles), trying to score the fastest time on the virtual track.
At the Forefront of Technology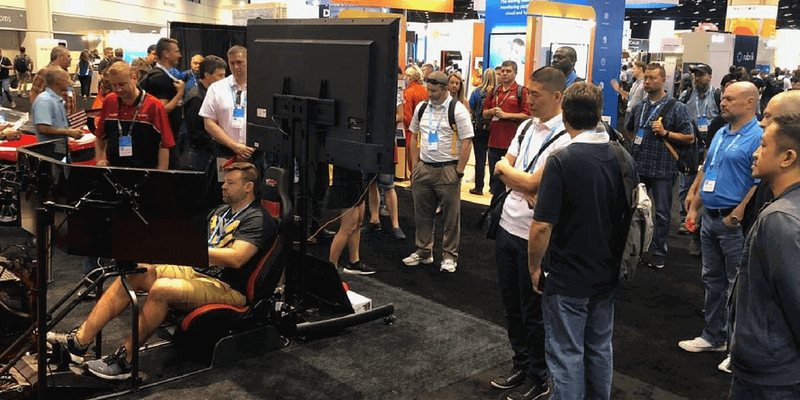 For three years of them holding a booth at Cisco Live, GDT has leveraged the Qminder app to not only manage the lines to their Ferrari simulator but also notify their booth visitors of their queue status and track wait times via a 70" display powered by the Qminder TV.
A technology, however innovative, is only as good as its ability to synergize, and this year, GDT heavily leveraged integration.
First off, integrated with Cisco Webex Teams Spark bot, Qminder allowed GDT to track and alert the participants who scored the highest, using information they provided upon sign-in.
Additionally, integration with Zapier allowed to pull the same customer information from the internal Qminder database into SalesForce. This allowed for real-time customer service opportunities, in the form of signing up for future campaigns and providing special offers.
It's All in the Experience: The Importance of Enjoyable Queues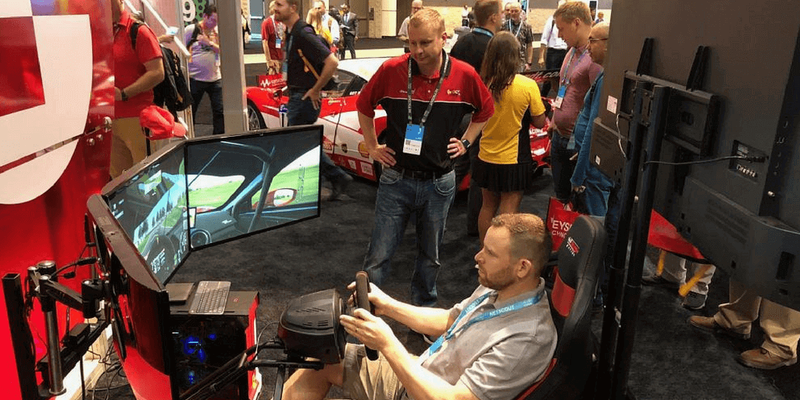 The results of the last Cisco Live speak for themselves: "The simulator became a huge hit at Cisco Live, with over 200 drivers per day."
This comes as no surprise, of course, as GDT already expected hundreds of people to sign up to experience the speed and excitement from driving one of the most exclusive automobiles in the world. What helped push the overall experience to another level was GDT's masterful handling of the queueing process.
As any organizer knows, waiting lines are part and parcel of every event experience. That is not to say, however, that they should take out of the enjoyment — far from it, as waiting, when handled properly, can build up the hype.
The most important part is that GDT's decision to employ Qminder at their event helped achieve seamless management of participants. According to Darjon Bittner, CMO of GDT, the queues at times reached the size of 15 guests, with the average wait time of 30 minutes.
It is with the help of queue management solutions that queues like these can become invisible.
And to help everybody remember this incredible experience, GDT was giving out free commemorative Ferrari hats — a personal touch that only served to show how much GDT cares about making it work for everyone.
---
GDT is an example of how innovative technologies can be used to not only make life easier but also delight visitors in a surprising way.
Take a cue from them and give Qminder a try.
Try Qminder Free