How to Improve Customer Communication With SMS Text Messaging
SMS, or short message service, has become the primary way of private communication, taking over phone and email. 97% of smartphone users regularly use text messaging to talk to their peers.
If businesses want to build this personal bond that is the foundation of any customer retention strategy, they need to talk to customers not only in the language they understand, but also via the communication channel they prefer.
Some companies are already using SMS for their marketing campaigns, but customers inevitably want more — a real conversation.
As we're talking about phone numbers, let's look at, well, numbers.
The majority of customers (64%) prefer to communicate with companies via SMS. The reason is simple: they feel it's a more efficient and convenient use of their time.
This is an age-specific preference, too. Customers aged 18 to 34 say they prefer SMS text messaging over other types of communication when it comes to troubleshooting.
There's even evidence to suggest that customers are more likely to stay loyal to a brand that offers SMS two-way communication.
But why, you might ask. Why isn't email or facebook enough to satisfy the demands for conversation?
It's time we talk about the advantages of SMS text messaging.
The advantages of SMS communication with customers
There are many reasons why SMS messages are a preferable way of talking with customers. Let's single out 8 main advantages of SMS:
Reliability. SMS messaging is internet-independent and works on all mobile phones. Unlike letters, SMS does not have to go through junk email filters.

Low entry barriers. SMS communication does not require a specific app or setting up a profile. It is also more convenient for hearing-impaired customers.

Global reach. SMS is universally synced between all of the global mobile phone operators, and can reach any of the nearly 10 billion phones currently in use.

Immediate delivery and results. The open rates for SMS messaging (98%) are four to six times higher than those of email (15-25%).

Time efficiency. It takes less time than to have a phone call or compose an email. You can also set up templates and automate SMS notifications.

Cost effectiveness. Text messages are cheap, and you can further reduce their price by buying them in bulk or subscribing to an SMS provider.

Privacy. SMS messaging is more discreet than a phone call, as the sensitive details cannot be overheard.

Personalization. Since mobile phones are very personal devices, you can tailor messages to each customer and people will often respond with more personal immediacy.
Especially when compared to regular phone calls, SMS two-way communication comes out on top, because:
Customers don't have to wait on hold.
SMS allows both customers and employees to multitask.
Noise levels, hard-to-understand accents and dialects, social anxiety and other mitigating forces are not a factor.
Customers don't have to fear being overheard or be embarrassed about having to divulge sensitive information in public.
How to use SMS two-way communication correctly
SMS is a versatile communication tool. In fact, research has found that customers would like to complete these activities via SMS:
This list is incomplete, but the (text) message is clear: SMS offers a unique opportunity to strengthen your bond with customers.
SMS helps give your company an insight into what your customers think of you, your brand and how you can improve.
One of the more useful applications of SMS communication, especially in times of COVID-19 pandemic, is informing and engaging with customers remotely.
Let's see how it works, using Qminder's SMS feature as an example.
Automated SMS notifications for check-in
Remote check-in is a valuable asset, but it does pose a serious problem: how to keep in touch with customers when you can't even see each other?
The answer is, of course, text message communication.
First things first, let's see if you have this feature enabled. Go to the Locations tab in your Qminder Dashboard, and select the location you want to set up automated text messaging for.
NB: If your plan does not support SMS notifications, reach out to us and we'll work out an offer.
Once it's done, all that's left is for you to actually compose the new templates. Click on + New auto message and choose the options you need.
In fact, let's go over all of the options available and how they can help you get on better with your customers.
An SMS welcome message
A welcome message is sent when a visitor has checked in and is added to the waiting list. Its purpose is to:
Give your visitors peace of mind. Getting a welcome message means that check-in was successful.

Give you a chance to build rapport with customers. A virtual handshake is all you need to get conversation going and make visitors feel at home.
To create a welcome message, set Welcome message as the type of your auto notification, and compose the text.
SMS queue notifications and waitlist reminders
Customers can also receive an automated message which alerts them of their turn.
Pick Visitor is being called to a desk and compose a message which customers will receive when their turn comes. A similar notification will be displayed on the Qminder TV screen if you use it in your waiting area.
Choosing the Visitor is being called to a desk option is relevant when you have selected a service desk. In this case, the visitor will be informed about which desk to come to.
All of the messages, regardless of their type, can be freely customized. You can use certain placeholders, which are highlighted under the textbox:
First name.
Last name.
Location.
Desk.
The placeholders change their value based on the customer or location information. For example, "Hello, first name last name!" will display the actual first and last name of the recipient.
Even through a short text message, you can extend the feel and character of your brand.
Don't forget about emojis! You can use them to alleviate tension or make you feel more human.
(If you are human, that is 🤖)
SMS two-way communication with customers
Automation only gets you so far. At the heart of every personal bond is — you guessed it — a heart itself.
Don't rely on templates alone. Take action and start talking to your customers more.
To start a conversation, go to the visitor's profile in Service View, then click on the Write a message to visitor field under Activity to start typing out your message.
It can be a question about your customers' needs and preferences, a clarification about your terms of service, or an update about possible delays.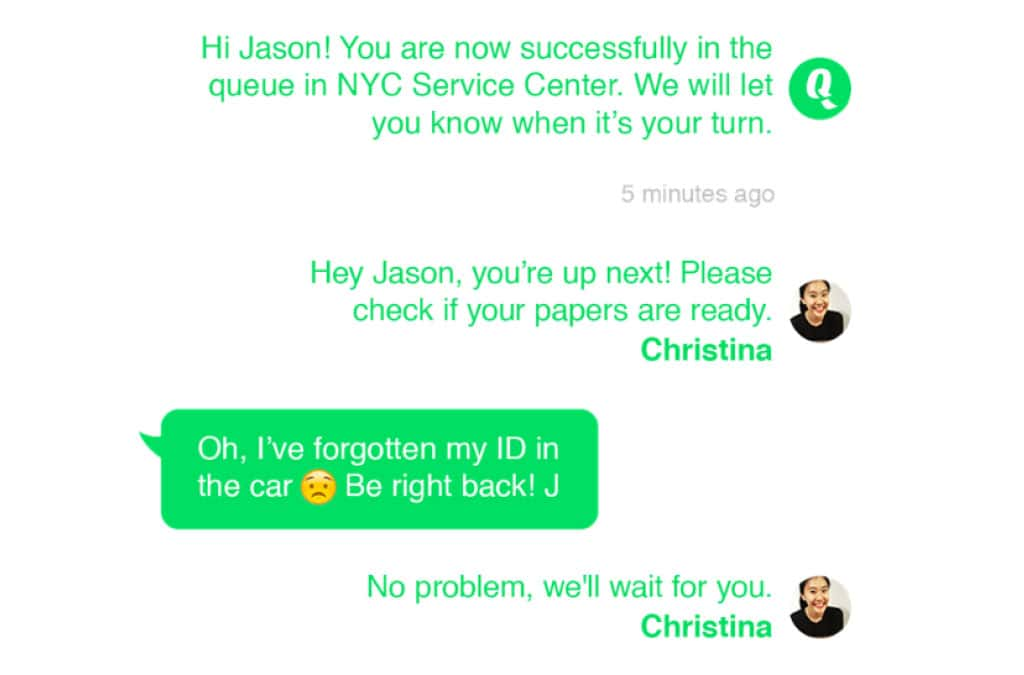 Hell, it can be just chit-chat if both parties are up for it.
In turn, customers can use the SMS chat to inform, for example, that they're running late or forgot their ID.
Speaking of which, they can send a picture of it to you by SMS.
Post-service text messaging for customer feedback
As the saying goes, "what gets measured, gets managed". You need to know how your customers are feeling about the service you provided to them, preferably in a way that can be tracked and compared numerically.
CSAT? NPS? CES?
If you don't know what these abbreviations stand for, check out our breakdown of the most valuable customer satisfaction metrics.
Anyway, feedback is the lifeblood of any business worth its salt. It not only lets you learn about some of the drawbacks of your customer satisfaction strategy, but also gives you a unique perspective on your business as a whole.
This, too, can be done via SMS messages.
Let's look at the last type of the automated text message we've yet to cover — after-service SMS.
Go back to creating a new automated notification, set the message type as After service, and then choose a delivery time from three options:
Immediately.
One hour after service.
24 hours after service.
You can use this opportunity to thank the customer for their visit and ask them for their feedback.
Encourage an open-ended review of their time with you. Or, if you want their candid opinion on several aspects of your service, send out a survey.
Text them a link to your Google Forms survey. Keeping it short will make sure that most people will answer it.
Read our tips on how to ask questions to get honest customer feedback.
Check message history with a visitor
Lastly but not leastly, you can track all the messages sent out to a specific customer in their activity log in the dashboard.
The log records all the interactions and places them on the timeline in a chronological order. This way, you can know for sure who interacted with a visitor, as well as when, and how.
SMS communication with customers is invaluable when it comes to creating customer context: their preferences, unique needs, demands, etc.
More importantly, it can help you get to know your customers on a more personal level. Show them that you're not some soulless machine, but that you genuinely care about them.
If it seems like we're singing praises to SMS, you're not wrong. But it's hard to overestimate the importance of convenience, especially when it comes to communication.
Take advantage of remote check-in and Qminder's SMS feature. We take the "mess" out of "text message".
Sign up for Qminder