25+ Best Patient Queuing Software
For hospitals, patients are acutely aware of how long they must wait before getting help.
Long waiting times in your healthcare facility cause lower patient satisfaction scores, and patients start searching for other healthcare providers.
There are many tools & software to create a better waiting experience for patients and reduce walkaways. If you have walk-in patients, a patient queuing software should be one of those tools.
Patient queuing software provides digital patient check-in and patient self-check-in options. It also provides analytics about your foot traffic, service times/ wait times and many more.
These software can be referred as patient check-in software as well but, their essential difference is that patient queuing software helps you to enhance service quality for non-scheduled patient visits or during pre appointment check-in.
What to consider when choosing a waitlist app for patient check-in?
Is the solution HIPAA compliant? - Any company (or software) that will access, store, or transfer sensitive patient data needs to meet HIPAA standards.

Ask for references - This will ensure that the provider has enough experience in the healthcare sector, meaning they understand your specific needs.

Hardware requirements - Some queueing solution providers build custom hardware, which can be costly to acquire and maintain. Others are using popular devices such as Ipads or Apple TVs to make the solution readily available.

SMS notifications - Some providers use text messaging to notify the patients. This will improve the waiting experience because the patient can leave the waiting area, and they'll receive a text message telling them about their turn.

Pricing options - Some providers charge per location, while others charge by users. Paying for users liberates you to open new locations and either allocate some of the existing seats to the new location or purchase new seats.

Support level - Healthcare is one of those industries which never sleeps. Emergency care hospitals welcome patients 24/7, meaning your provider should be able to support you as quickly as possible.
Now, let's get to the 25 best queue management solutions for Hospitals:
1. Qminder
Qminder is a HIPAA-compliant queue management solution with 10+ years of experience in helping hospitals and clinics streamline patient check-in and waiting experience. Healthcare facilities worldwide widely use Qminder's queueing solution: Johns Hopkins, Hospital Corporation of America, Cure 4 The Kids Foundation, and many more.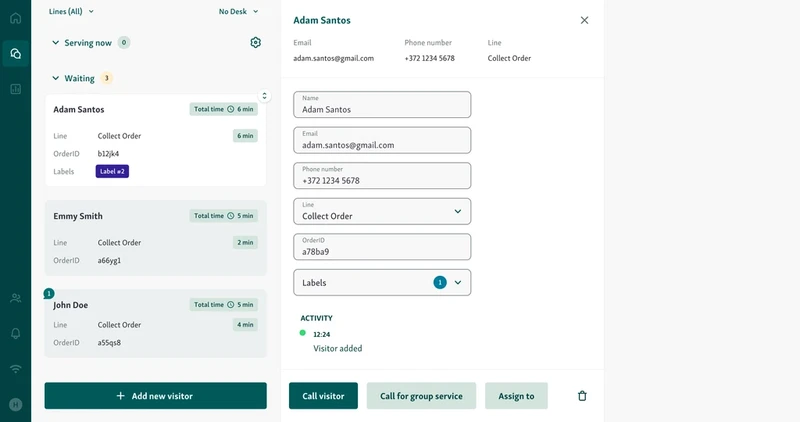 Best fit for:
Healthcare organizations looking for virtual queuing solutions to decrease wait time for walk-in patients or eliminate crowding in waiting areas—a good solution for organizations with multiple locations or services in one facility.
"Qminder has brought transparency and efficiency to our check-in process. We are now meeting key internal metrics for wait times and successfully manage staffing thanks to the the data based on patient volumes." Mark Hylen, Vice President at Beacon Occupational Health and Safety Services
Features:
Patient check-in – name-based virtual queuing and remote sign-in to waiting lines with iPad check-in kiosk, QR code, or a website link.
Visit planner – let your patient check open hours, rush hours, and estimated wait times before checking in to queues.
Display screen – display waiting lines in waiting rooms via Apple TV, a mini website Qminder provides you with.
Notifications – send automated SMS notifications and let your visitors wait for their turn remotely.
Queue management – manage complex services with advanced features such as returning a visitor to the queue, forwarding to a different line, calling again, group service, etc.
Service dashboard – employees and managers can easily monitor customer numbers, requests, and service performance.
Service analytics – identify rush hours and monitor wait times, number of daily visits, service times, and much more with easy-to-read graphics.
Pricing: Starting from $429/month. The pricing is user-based and has monthly and yearly subscription options. You can access the free trial after a brief demo call.
Data security: HIPAA - ready, SOC 2 Type II, CCPA, GDPR / UK GDPR Annual network and application pen-test HIPAA BAAs followed AWS Well-Architected best practices CIS Benchmarks.
⭐ G2 Ease of use score: 9.2
⭐ G2 Ease of implementation score: 9.6
⭐ Rated #1 Easiest to Use and Set up on G2
2. Qmatic
In the world of queue management, Qmatic is like a great grandfather that started managing queues with number-based ticketing systems.
When queueing in your local grocery store's deli aisle, you're probably engaging with Qmatic's take-a-number machine. Nowadays, Qmatic offers a range of visitor management solutions with custom hardware and sophisticated queueing systems.
Qmatic is a decent choice if you're looking for a trustworthy partner, but the downside comes from custom hardware and the need for a local reseller to help you service the machines.

Features:
Visitor check-in – take-a-number machine with printed tickets or QR code.
Notifications – text messaging, display TVs, audio announcements, etc.
Hardware solutions – order custom printers and other Qmatic hardware via the company or their re-sellers.
Customer feedback – send a feedback form to your visitors after the service.
Third-party integrations – integrate with tools such as Salesforce, Oracle, or WhatsApp.
Pricing: On request, custom quotation. Additional fees for features and integrations might apply.
Data security: ISO 27001, ISO 9001, GDPR
⭐ G2 Ease of use score: Not enough data available
⭐ G2 Ease of implementation score: Not enough data available
3. Advantech
Advantech's intelligent queueing system allows healthcare organizations to improve efficiency and decrease patient waiting times. Patients can join a queue online and also see their position in the line. They also offer integrations with other healthcare systems and provide reports about visitor volumes or waiting times.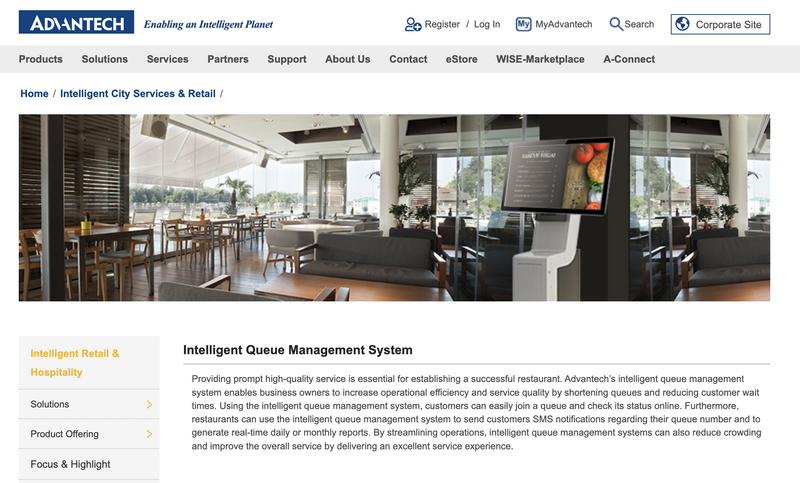 Features:
Queue Management - customizable self-service queue ticketing to automate patient flow.
Real-Time Waiting List Screen - display ticket numbers, estimated waiting times, or related healthcare information on a display.
Queue Notifications and Status checking - patients can check their position in the queue via mobile devices.
Reporting - create real-time queueing reports, including wait times and patient volumes.
Pricing: On request, custom quotation. Additional fees for features and integrations might apply.
Data security: Ask the provider for more information.
⭐ G2 Ease of use score: Not enough data available
⭐ G2 Ease of implementation score: Not enough data available
4. Qwaiting
Qwaiting has a strong footprint in the Asian region with offices in Singapore, Malaysia, and India. They work with companies across industries including hospitals and clinics. Their digital engagement system promises to improve the patient journey every step of the way.

Features:
Different check-in options - empower patients to check in via a check-in kiosk system or a QR code.
Cloud-based - access the software from any device with an internet connection. Integrate with other solutions via API.
Analytics and reporting - receive valuable reports about your operations, like the duration of service, employee performance, and more.
Customer feedback - use the app to collect real-time customer feedback.
Pricing: Location-based pricing. Starting from 89$ to 699$.
Data security: Ask the provider for more information.
⭐ G2 Ease of use score: Not enough data available
⭐ G2 Ease of implementation score: Not enough data available
5. Qless
Qless is a waitlist management software with appointment scheduling features designed to help organizations provide a great customer experience. Founded in 2007, this Califronia-based company is one of the industry's oldest players. Best known for supporting DMVs across the USA, Qless also supports multiple healthcare organizations with patient check-in management.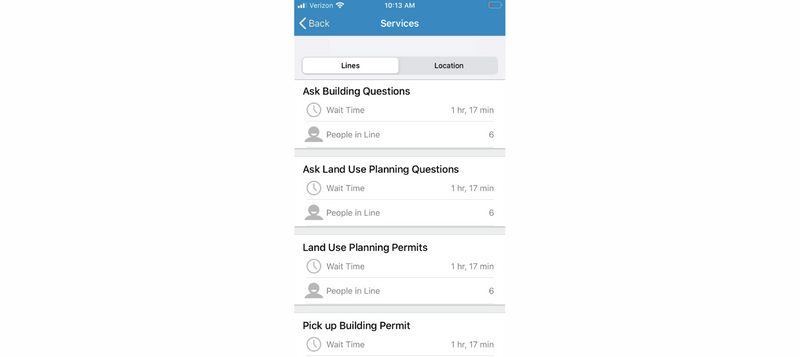 Features:
Multiple check-in options – allow visitors to add themselves to the queue through text messages, mobile apps, onsite kiosks, or your website.
Customer flow management – improve customer satisfaction scores by using personalization and automation to enhance your waiting experience.
Communication tools – update your customers about your wait times and their position in the queue.
Dashboard – get a real-time overview of visitors, which allows you to allocate more staffing resources whenever needed.
Appointments – decrease wait times by allowing customers to book appointments in advance. Easily merge appointments with walk-ins.
Pricing: No public pricing. Contact Qless for more pricing information.
⭐ Capterra Ease of use rating: 4.8
⭐ Capterra Customer service rating: 4.0
6. QueueTix
QTix (QueueTix) is a booking and queue management app developed as an alternative to take-a-number machines. It is mainly used in cafes and restaurants but has recently found customers in the healthcare sector.
Features:
Mobile & tablet integrated system – no need to use pagers, or complicated paper-based systems for managing queues and booking.
Fast & customer-friendly services – decrease labor costs related to manual queue and booking management.
All-in-one queue & booking system – get a real-time overview of updates and monitor bookings and queues in one location.
Notifications – sending progress updates to your customers reduces perceived waiting time and provides an enjoyable waiting experience.
Virtual waiting room – your customers don't need to wait in a waiting area since they'll be notified about their turn.
Pricing: The app is free to download, but additional costs may apply.
⭐ Capterra Ease of use rating: 5.0
⭐ Capterra Customer service rating: 5.0
7. Qtrac by Lavi Industries
Qtrac offers organizations custom hardware and software to help them improve their visitor flow. For queue management, you can use the number-based queueing or their appointment scheduling feature to decrease crowding in the waiting areas. If your hospital receives a lot of walk-in traffic, you may want to try this solution, but remember that they work best with highly complex customer flows.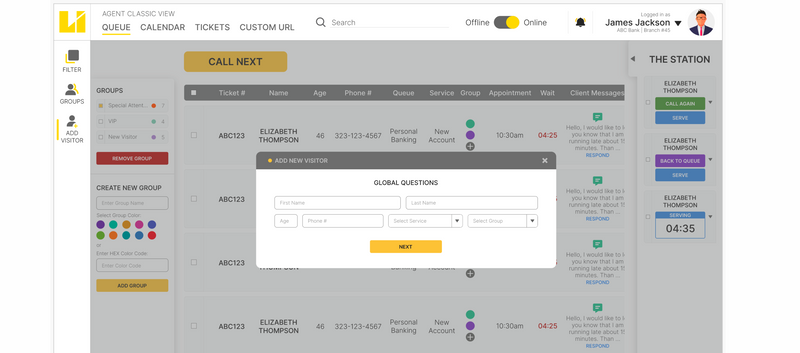 Features:
Visitor check-in – ticket printers for walk-in visitors or QR code for virtual queuing.
Notifications – display visitors' place in the queue via a website link, and notify them with a text message when it's their turn.
Queue management – features for re-queuing, prioritizing, and transferring visitors.
Optional hardware support – buy printers, barcode scanners, and card readers via Qtrac.
Condition alerts – set alerts based on service KPIs and inform front-line employees.
Pricing: Starting from $238.59/monthly. Cost per text message is $0.0325. The system requires implementation and onboarding fees.
Data privacy: N/A
⭐ G2 Ease of use score: 8.9
⭐ G2 Ease of implementation score: 9.0
8. Wavetec
Wavetec's Patient Journey Management system is designed to help healthcare organizations optimize patient flow and monitor wait times. Wavetec supports hospitals with mapping and managing the whole patient journey. This includes setting appointments before arrival, queue management for walk-in traffic, or sending customer feedback surveys after the visit.

Features:
Visitor check-in – digital ticket dispensaries or mobile queuing with app.
Notifications – display waiting lines on TV, or send messages to visitors via app.
Appointments with Whatsapp – accept appointments via WhatsApp messages.
Mobile app – visitors can get a ticket by downloading the app, choosing a branch and getting directions.
Live reporting system – get insights from all visitor check-in channels via Wavetec Spectra.
Pricing: On request, custom quotation. Additional fees for features and integrations might apply.
Data security: N/A
⭐ G2 Ease of use score: 9.3
⭐ G2 Ease of implementation score: 9.3
Didn't find the ideal tool yet? See the list of additional queue management software and browse their websites for detailed information.
Qnomy
Nemo-q
QueuePad
Awebstar Queue Management System
Qwaiting
Q-flow
Leyline
Hate2wait
Earlyone
SimpleQ
Qmagic
Qtip
Timeacle
VirtuaQ
Akis Technologies
Acf technologies
V-Count
JRNI
2meters
Skiplino
Engagis
NextMe
Waitwell
ezTurns
FQM Free Queue Manager
Didn't find a suitable tool that's matching to your needs? Try Qminder - the 1st Easiest To Use in Queue Management software on G2.
Request Free Trial