Top 5 Qudini Alternatives for a Queuing System
Are you looking for a queuing system alternative to your existing solution?
Every business with a lot of walk-in traffic should use a queue management system. Every organization has different service flows and, therefore, different requirements for a queue management solution.
These systems will improve the customer experience and help gather important data about their operations. Qudini is an excellent solution for big enterprises and retailers, but what if you want something easier to set up and manage in multiple locations?
This article will introduce you to the top 5 alternatives to Qudini's Retail Choreography Suite for a queue management system.
1. Qminder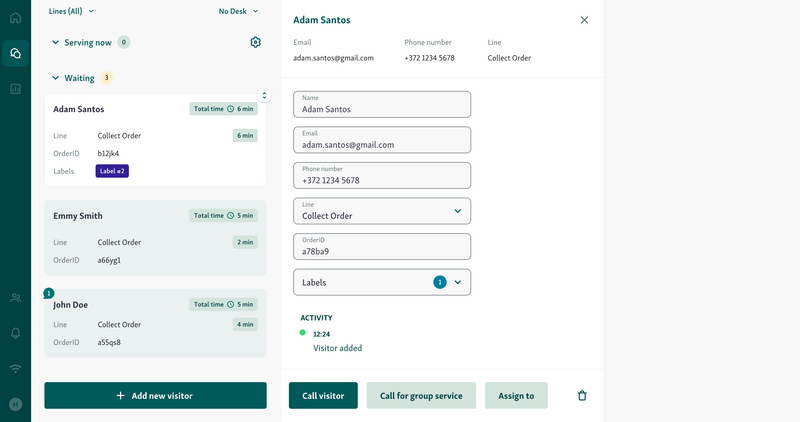 Why choose this tool?
Qminder offers organizations a simple and efficient way to manage their queues and walk-in traffic. This system empowers customers to join a queue remotely, which reduces wait times and improves the overall customer experience.
Easy to set up and use, Qminder offers powerful features like SMS notifications, real-time data, service analytics, and world-class data security.
Features
Visitor check-in – provide name-based virtual queuing with an iPad as a self-check-in kiosk or a QR code that links to online queuing.
Visit planner - let your visitors check rush hours and estimated wait times before checking in to waiting lines.
Display screen – you can display waiting lines via Apple TV in your waiting room, or on the mini website Qminder provides you with.
Notifications – automated SMS notifications allow visitors to wait for their turn in line remotely.
Queue management – features to return a visitor to the queue, forward to a different line, call again, group service, etc.
Service dashboard – employees and managers can get an in-depth insight into the customer numbers, requests, and service performance.
Service analytics – pinpoint rush hours and measure wait times, average daily visits, average service times, and view visitor history logs.
2. Wavetec

Why choose this tool?
Wavetec offers a conventional queuing solution for brick-and-mortar businesses like banks, retailers, and healthcare. It covers all the basics of queue management with features like waiting lists, appointments, and waitlist screens. Managers can use the data and analytics gathered by the system to optimize operations. The downside of the solution is the custom hardware, which requires you to contact a technician before making any changes to the customer flow.
Features
Visitor check-in – self-check-in kiosks, website link, QR code
Notifications – text messages, waitlist display screens, or mini website
Pre-order waitlists – accept pre-orders for out-of-stock items and manage your upcoming stocks better.
Video appointments – allow your customers to schedule video consultations from your website.
Task management – share tasks, messages, or tips between employees
3. Qless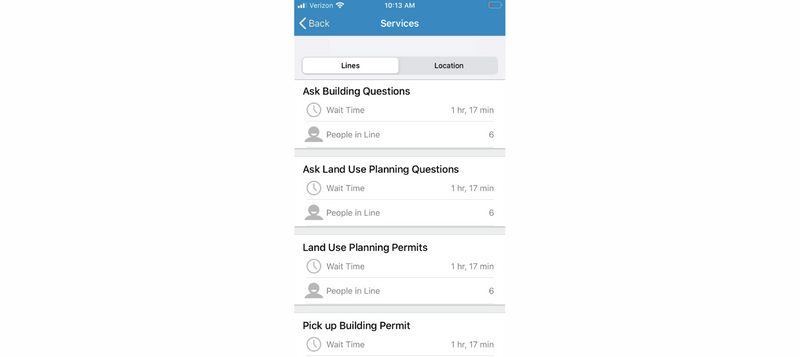 Why choose this tool?
Founded in 2007, Qless is one of the oldest queue management companies in the US. It offers all the basic features, including virtual queueing, service analytics, and SMS notification. Their customer base consists of many DMVs, but they also include healthcare, education, and retail organizations.
Features:
Visitor check-in – visitors can check in from a website, mobile app, or onsite kiosk with a text message.
Notifications – automate text messages and emails or send notifications via the app.
Comprehensive dashboard – get an overview of visitors in waiting lines and appointments easily from one dashboard.
Real-time alerts – set limits for better time management and get alerts when transactions are happening above the threshold.
Customizable reporting – This enables businesses to create different reports that can help improve both customer experience and business performance.
4. Waitwell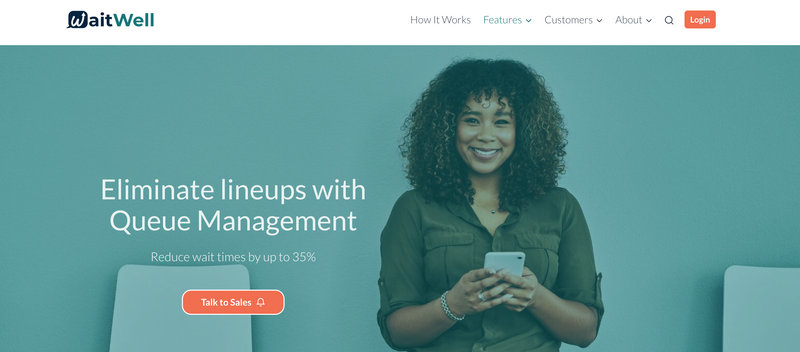 Why choose this tool:
If your priority is to quickly get a system for accepting both appointments and a low volume of walk-in visitors, Waitwell is the perfect fit because of its simplicity. One of the rising tools in the queue management system space, Waitwell's focus can be mostly on appointment bookings but they still provide you with a tool for walk-in visitors as well.
You can set up automation to collect customer feedback after service and automate which lines will be prioritized during the service.
Features:
Visitor check-in – allow visitors to register to waiting lines via check-in kiosk, QR code, or by sending a text message.
Notifications – display the visitor's positions in line on the status page and send a text message to notify them when it's their turn.
Queue management – features to put visitors on hold, and manually prioritize/deprioritize visitors in queues.
Appointment bookings – prioritize appointments over walk-in visitors by default during the queuing process.
Easy transactions between branches – forwardable notes to save time when clerks send visitors to different lines or departments.
5. Qtrac by Lavi Industries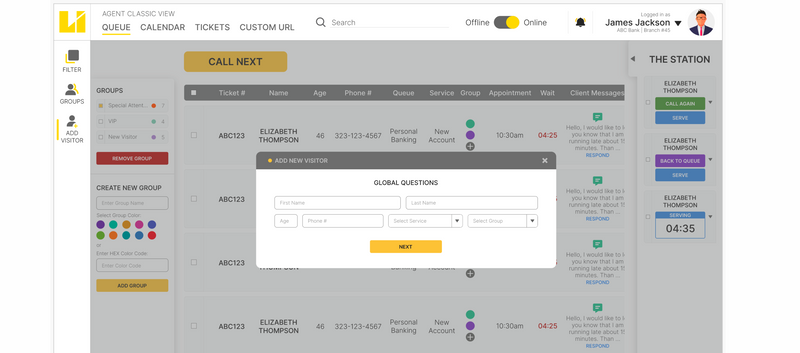 Why choose this tool:
If you need custom-built service flows for different branches or locations, Qtrac's customer service will help you with every aspect of it, including implementing the system.
Qtrac is well known for its fast customer support and highly customizable system. You can configure different service flows between different branches, but this also makes it harder to implement organization-wide changes. Regardless of the issue, their customer service will help you out.
While offering number-based queuing with ticket printers, their biggest strength is the appointment scheduling solution.
Features:
Visitor check-in – use on-premise ticket printers or a QR code for virtual queuing.
Notifications – display visitors' place in the queue via a website link, and notify them with a text message when it's their turn.
Queue management – features to requeue, prioritize and transfer visitors.
Optional hardware support – easily buy printers, barcode scanners, and card readers via Qtrac.
Condition alerts – configure alerts based on service KPIs and inform front-line employees.
Every business has different customer flows and different needs for a queueing solution. If you want to learn more about queue management systems, we suggest you look at our Guide to Implementing Queue Management Systems.