How to Boost Patient Experience - 7 Essential Software Solutions
Technology plays a vital role in improving, well, everything. When it comes to patient experience and patient satisfaction, the case is the same.
You might get overwhelmed by how many different software types exist for healthcare facilities. If you look closely at some of the software names, you will notice that there are a lot of correlating features.
Many software types have more than one capability, and how to choose what to implement depends on your facility's specific needs.
In most cases, you will need to integrate one or two software with each other. It will allow you to create seamlessly automated operations and provide the best patient experience.
Essentially, you are after getting rid of paper sheets, automating manual workload, and adopting a personal approach to increase patient satisfaction.
Digitizing patient logs and minimizing manual paperwork can significantly speed up service, but the true benefit of automation is service intelligence.
Automating daily operations at the medical front desk will provide valuable statistics about the service and patients, helping managers make operational decisions that directly impact service time, wait time, and patient satisfaction.
Patient experience includes multiple touchpoints beyond the hospital waiting room.
Look at our suggestions to learn how to improve each stage of your patient's journey and provide a more patient-centric service.
1. Electronic Health Records Software (EHR)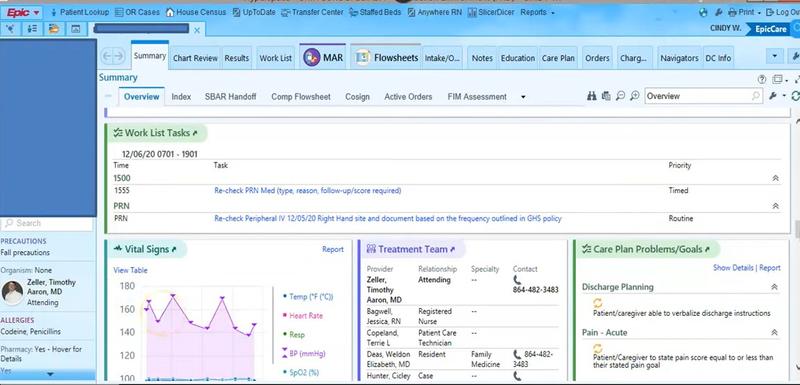 The electronic health records software eliminates paper records and securely stores patient information. The organized database improves efficiency and reduces the risk of human error. Storing everything in the cloud enhances accessibility and efficiency. Healthcare providers can quickly access patient records.
This is how you can start streamlining workflow and reduce paperwork. The speed of the service greatly impacts patient experience, and the high availability of patient history logs allows doctors to make better-informed decisions.
Many EHR systems have built-in functionalities such as; electronic signature and collecting patient consent and payments in facility resource planning. You can also implement a patient portal and allow your patients to reach and manage their medical records and prescriptions.
An electronic health record software will allow you to;
Eliminate the need for physical storage of large volumes of paper records
Access patient data from multiple locations
Promote seamless care coordination and faster decision-making
Securely store patient data and consent forms
2. Patient Check-in and Patient Queuing System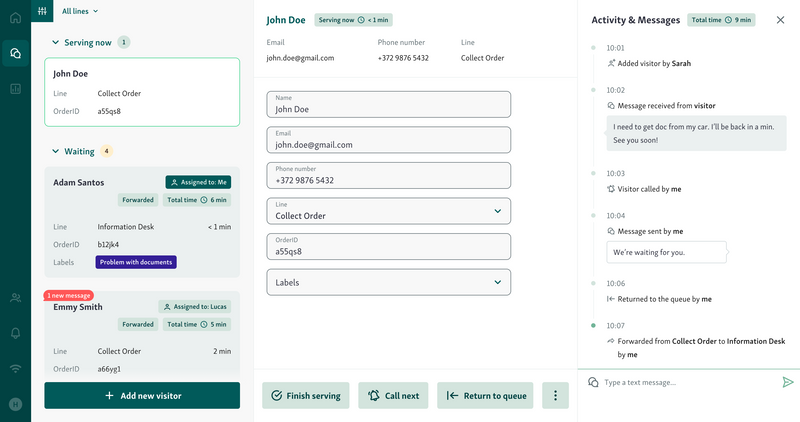 There are many secrets to a hospital growth, but the key element is patient experience.
Patients' first impression starts during the check-in process, and after that, their opinion is heavily affected by the waiting experience.
A patient check-in & queuing system eliminates physical lines by using virtual queuing and offering self-check-in options for patients. It helps you to make data-minded operational decisions to decrease wait times and increase patient satisfaction.
Receptionists can stop shouting names in the lobby and manage queues and service from one screen.
Essentially clerks can use it to manage walk-in patients or pre-appointment queues. The system uses text messaging for automated notifications and provides a 2-way communication channel with the visitors.
Suppose you implement a name-based queuing system. In that case, your employees can adopt a personal approach and provide a better patient experience.
It can also automate the patient calling between the medical receptionist and the doctors. Once receptionists register patients in the waiting line, a doctor can see the queue in real-time and call the next patient in the doctor's room.
Many modern software goes beyond basic queuing functionalities. These tools aim to give you vital statistics about the service in your location.
Service intelligence will show you average wait times, service time, rush hours, or performance statistics about the medical front-desk staff.
A name-based queuing system will also help you to keep logs about previous patent visits in a HIPAA-compliant secure place and reach visitor history quickly. This is especially useful if your front desk receives a high volume of calls because it fastens operations for medical receptionists.
By implementing a patient queuing system, you will;
Fasten patient check-in process with easy-to-use tools
Do better crowd management for waiting rooms
Show information about live queues and decrease patient frustration
Collect service data and improve operations
If you are looking for a patient check-in system, request a 14-day free trial from Qminder. The system gives managers easy-to-understand graphics and statistics about the service. With the help of service data, you can make informed decisions to decrease wait time and increase patient satisfaction.
3. Patient Engagement Software

Although many systems, such as EHR, have built-in customer relationship management functionality, only some have the budget to invest in such significant software. In this case, a stand-alone patient engagement software can be implemented as an alternative.
Integrating your chosen system with other solutions, like a patient check-in system, enhances patient communication and obtains significant statistics regarding your service quality.
Listening to your patients and collecting their feedback is crucial for enhancing their overall experience. By automating the feedback collection process after providing the service, you can obtain reliable and systematic results that can improve patient satisfaction.
Patients frequently share their dissatisfaction with hospital wait times through feedback. Hospitals and clinics can use this feedback to determine whether investing in a patient queuing system is necessary. However, with a clear understanding of the problem, it would be easier to make informed decisions.
A patient engagement system will help you to;
Send automated after-service surveys or feedback forms
Send automated reminders
Create a secure channel for communication with patients
Provide patients with educational materials
4. Electronic Prescribing System
E-prescription systems aim to bring efficiency, accuracy, and convenience to medical management. It digitilizes patient logs and keeps an organized archive of documents.
By being able to reach patient history quickly, doctors can provide better care for patients. Many e-prescription software also includes integration with databases and clinical decision support systems. Doctors can do real-time checks for potential drug interactions, allergies, and other safety considerations.
The system alerts doctors for potential issues to select the most appropriate medications for their patients.
With an e-prescription system, you can increase patient satisfaction by;
Eliminating the need for paper prescriptions
Providing quick and efficient prescription fulfillment
Sending automated notifications and reminders to patients
Simplifying prescription renewals and refills for patients
5. Telemedicine Software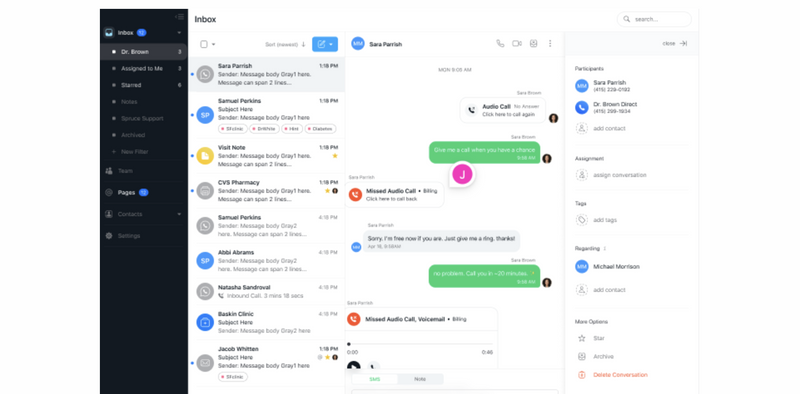 In the post-pandemic era, the need for remote services has extended beyond necessity. Even with the easing of regulations, the convenience and feasibility of accessing numerous services virtually have sparked a new trend.
Virtual doctor visits have become increasingly popular, and leveraging telemedicine systems can enhance revenue by tapping into growing demand.
The telemedicine system allows patients to consult with doctors, receive diagnoses, discuss treatment options, and even get prescriptions without needing in-person visits. You can provide video consultations or communicate with patients via phone or text.
Provide remote access for your patients with telemedicine and;
Eliminate barriers for patients, such as mobility, distance, and lack of local resources.
Provide prompt medical advice in urgent or non-urgent situations
Increase availability for patients
Increase patient follow-ups with video calls
6. Medical billing software
When running a healthcare facility, it's not just about taking care of patients; a lot of paperwork and accounting stuff needs to be handled too.
This significant workload can slow operations, and errors directly affect patient satisfaction.
A medical billing system helps hospitals accurately and efficiently prepare and submit billing claims to insurance companies or patients. It handles claims and submissions, tracks outstanding payments, and sends reminders, ensuring the healthcare facility gets paid promptly.
By using a medical billing system in your daily operations, you can:
Speed up payment processes
Minimize errors and rejections
Comply with regulation requirements easily
Minimize manual paperwork
7. Wayfinding Software
Picture this. You're walking into a big, bustling hospital for the first time. You're already feeling a bit nervous, and then you realize you have no idea where to go. That's where a wayfinding system comes to the rescue.
A wayfinding system is like a trusty GPS within the hospital. It's designed to help patients navigate the maze of hallways, floors, and departments, making your journey much more accessible.
This is how a wayfinding system can improve the patient experience.
Eliminate lost and confused moments to decrease stress
Decrease workload on the front desk for medical receptionists
Provide quick access to services and decrease total service time
Visitor-friendly environment for patient visitors
Start by automating the patient check-in process in your healthcare facility. Request a free trial or book a demo with Qminder today.