How to set up Qminder at your location?
Every business is different and every location is unique - [Qminder queue management system](/queue-management-system/) is built to be flexible to match your changing needs.
Before anything, never worry about servers or wiring. Qminder is a wireless cloud-based system. You can get started with just a computer and WiFi. You also don't have to worry about maintenance or upgrades; all this and live human support is included in the service..
If you already haven't done so, the first step is to create an account.
Once you have it, let's run through the common questions.
How to greet your visitors?
With Qminder you have two basic options: set up a self-service iPad for visitor to sign in, or employ a greeter to input visitor information into Qminder.
To learn more about the personal approach with the greeter, read our blog post about Personal Customer Experience. In essence, you just give your greeter a tablet or a smartphone, where they can open Qminder and input the information you need. The number of employees or smart devices connected to your account is not limited in any away.
How to install Qminder on your iPad is covered under our support section.
The main thing to keep in mind with Qminder on your iPad is that, it has to be one of the first things that a visitor notices when you walk in. You want to engage them as soon as possible.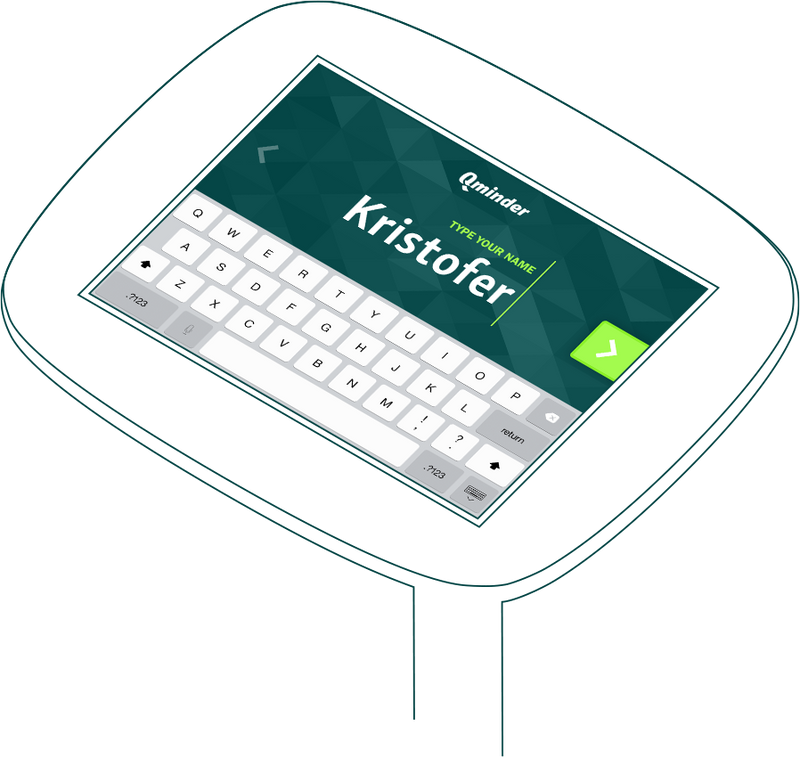 The most common setup is placing an iPad in a stand near the entrance.
We recommend to use Bouncepad iPad stands. We can vouch for their build quality and premium look. Furthermore, Bouncepad provides stands with battery packs - you have complete freedom where and when to place the iPads.
Make sure that the iPad is accompanied with an inviting sign and instructions for the best customer experience. With Bouncepad, you have the option to buy a Branding Board. This sign should welcome the visitor and instruct them to sign-in to get serviced.
With other floor layouts you can place the sign on the wall or next to the iPad, if it's put on a countertop.
For further consideration:
If you have high-volume foot-traffic, consider setting up more than one sign-in iPads.
You want to prevent people walking away, if they cannot find an immediate chance to sign themselves in.
The number of iPads you can connect to your Qminder is not limited. Set up as many as you like without any extra charge.
You can set up multiple iPads for multiple purposes. This can be useful for larger stores and departments where the visitor might want to browse around before requesting service.
Placing an iPad next to your best selling product or far end of your shop might also be a good idea.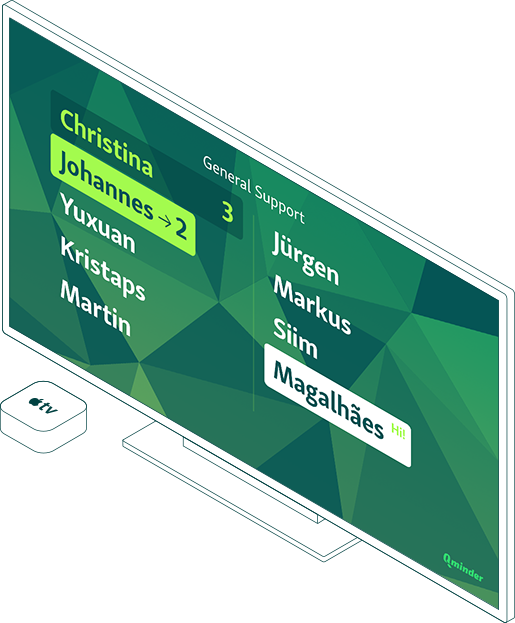 How to guide visitors?
When a visitor signs in on the iPad, the system will show a confirmation text on the iPad that they are now in the line and will shortly be attended to. With short wait times, this might mean that one of your employees will approach them fast or call them by name in an instant.
If you have a longer queue, you might want to set up a TV to show the waiting line. Instructions on how to setup Qminder on your TV can be found from our support section. The setup is done with a wireless Apple TV companion and is as simple as installing an app.
In a simple service-desk scenario, we recommend the TV to be placed in the general direction where you service the visitors - above or next to your desks. People tend to glance towards the service area in anticipation.
Depending on your average wait time, consider making the waiting area as comfortable as possible. A couch, some magazines, or a hot drink can go a long way in improving your customer satisfaction.
If you want to encourage your visitors to roam around in your store and look at the merchandise, make sure that the TV is visible from every angle of the store. Give them a peace of mind to shop. Multiple TVs can be set up to show the same waiting line, with no extra cost in the Qminder system.
It is also worth to note: in a larger establishment, you can dedicate different TVs for different waiting lines.
The TV will notify visitors of their place in the queue and of their turn with both visual and audible notifications.
Make your desk easy to find.
If your location has more complex setup; we recommend numbering your desks for better directions to the visitors, if you have more than a few desks and employees.
Qminder offers a Desk feature, where your employees can inform the system which desk number they are claiming. This, in turn, will be displayed on the TV when calling the visitors and showing where they should go.
The numbering of desks can be as simple as a paper print outs or stickers to your desks - just make sure they are visible for your visitors.
Mobile Workforce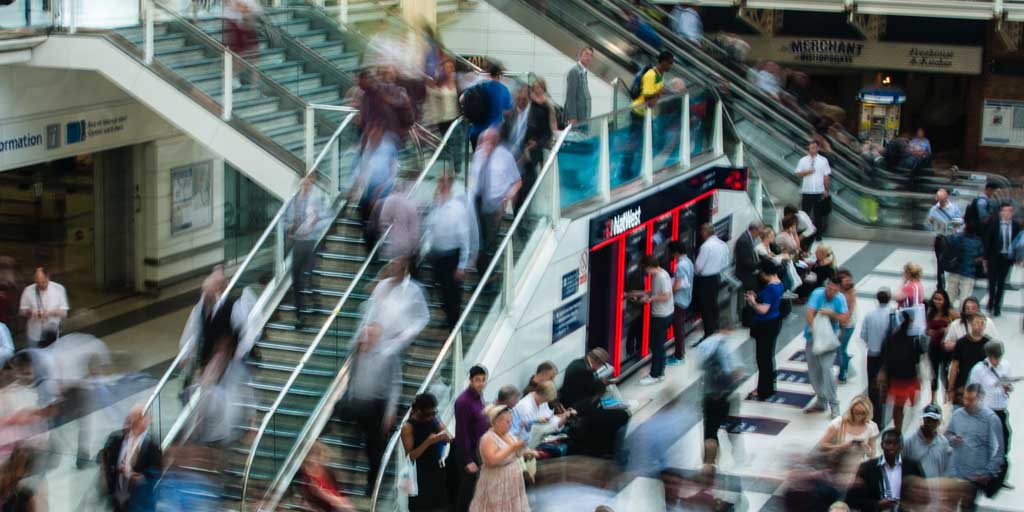 More and more business are opting in for more open floor plans. Eliminating the desk and barrier between your employees and visitors has shown to increase customer satisfaction.
If you want to keep your employees on their toes or make the closing handshake possible - Qminder is flexible to accompany your employees throughout the location.
iPads being the go-to choice, we offer an iPad app that makes adding people into the queue or servicing them a breeze.
For the gesturing sales reps, Qminder also runs on smartphones.
And on your desktop: don't worry about wires or new numpads cluttering your desk. Qminder runs in your browser, so all latest Chromebooks, Macs and PCs are supported.
Qminder is built to be modular and flexible. The setup is designed to be as fast and adaptable as possible to solve your current or future needs.
Feel free to get in touch to discuss the most optimal setup for you.
Setup Check-List
Create an account.
Install Qminder on your iPad and connect it with your account.
Buy a stand for the iPad.
Attach a visible Welcome message and instructions to the iPad.
Set up a TV with Qminder on AppleTV.
Make sure the TV is visible and sound notification can be heard.
---
All set up? Read our other guides.
How to make the most out of the data we provide.
Personal Customer Experience to balance your data gathering.
Explore our API to connect Qminder to your Business Intelligence or data warehouse systems.