LHV: Managing 170,000+ Clients With a Digital Queuing System
Founded in 1999, LHV has lived to become Estonia's biggest financial group. 164,000+ clients are using its banking services, and 177,000+ use LHV's pension funds.
LHV encourages all of its clients, both existing and potential ones, to "think big, start things and invest in the future". The latter part especially sounds like a personal motto of LHV, as since its very conception, the bank took great efforts to embrace innovation — not just in terms of banking services, but also the overall service experience.
In a field survey conducted by Dive Estonia from November 2018 to January 2019, LHV took the first spot as the bank offering the best service in Estonia. LHV gained an impressive result of 94.1%, with a 7+% lead over the runner-up.
What is the secret of LHV's high service quality? We sat down with Kristel Roostfeldt, LHV's Head of Client Services, to learn how LHV leveraged a queuing system to manage hundreds of daily visitors and provide premium service.
Great customer experience with digital queue management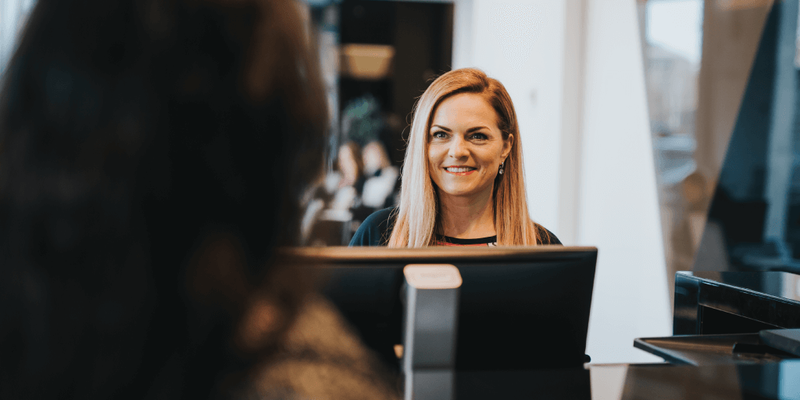 LHV puts their customers front and center
At LHV, the three core customer service values are:
Speed: how quickly and efficiently issues are resolved.
Appearance: how professional the team looks, how pleasant the service location is, how well all small details are designed
Simplicity: how intuitive the service flow is to the customers.
That is to say, efficiency of service is as important as the way clients perceive this service. Fast but impersonal service still leaves customers with a bad taste in their mouth, and LHV strives to provide a pleasant experience — the kind that they would have liked to receive themselves.
Long waiting has been a point of contention for banks since the beginning. It is, along with DMVs and post offices, something that banks are associated with. If LHV was to distance themselves from this stereotype, they had to break the mold and solve the queuing issue.
In 2015, LHV started using the Qminder queue management system to manage the lines at their offices. Since then, the wait time at LHV has been reduced by at least one third. This means not only faster customer queues but also a load off employees' shoulders.
Reducing wait time may not sound like a milestone in itself, but it brings about a landslide effect of positive changes all around the customer service flow.
It is the staff's duty to convince a customer that their problem is not as critical as they think, without at the same time downplaying the issue.
Clients are different in their attitude, mindset and outlook on life in general and bank service in particular. The goal of a service rep is to find a key that fits their lock.
Positive language plays an important role when talking to visitors, and even here a digital queuing system offers a helping hand. When customer contact information is gathered, it is shared with the system.
Now, a visitor is addressed by their own name, making their experience seem personalized from the get-go.
Although the situation in Estonia is a bit different, and people are still somewhat cagey about providing their name, using greeters to collect this information helps LHV avoid the impression of a faceless data-gathering machine. When confronted with a smile, visitors can't help but smile back.
Here's how a digital queue management system is being used at LHV:
Great customer service: right people, right attitude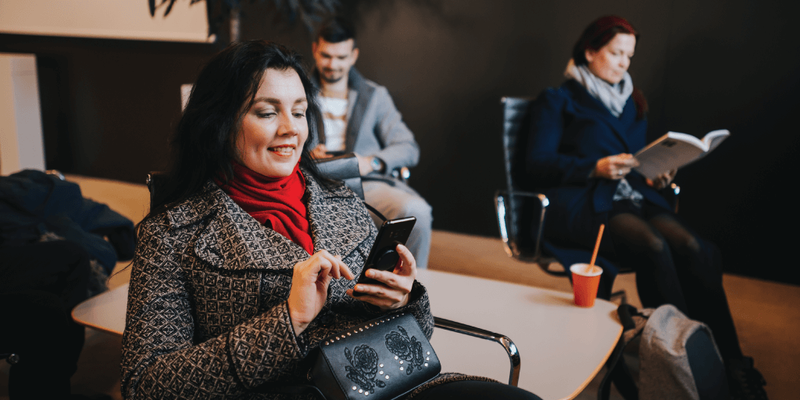 Waiting experience is an important part of customer experience
For institutions such as LHV, it is important that any new changes do not disrupt the workflow, and a period of adaptation is as brief as possible. That's one of the reasons why, when deciding which QMS to choose from, LHV opted for Qminder. Qminder provides LHV with around-the-clock support, to make sure that all the queue management features are being properly taken advantage of.
The tool is only as good as its user, and obviously LHV has some talented people to achieve these results with Qminder. With the market for talent as highly competitive as ever, how does LHV stay on top?
Kristel is certain: "It is not enough to only hire on fit." Relevant experience is important, but what truly matters in customer service is attitude. But even this is something that can be cultivated with the right company culture.
Company culture does not come to life overnight, and neither it is something that only a handful of employees are responsible for. Every team member, be it a veteran or a new hire, contributes to making work at LHV the way it is.
To create the kind of company culture that attracts new people to LHV, the management encourages openness and collaboration.
LHV invests in creating a light, positive and open-minded atmosphere, when everyone talks to each other, issues are resolved, and information is shared. Frustration is part and parcel of working face-to-face with clients, but it should never affect the quality of service nor quality of life.
What most employee-friendly companies around the world have in common is their focus on personal growth. This is something that LHV pays attention to, as well, and praises individual employees for their work.
Such a reward framework would be impossible without the ability to measure individual performance. This, again, becomes possible through Qminder, as it captures performance data for each line, desk, and employee. The two main stats are wait time and service time, which measure the duration of each wait and service, respectively.
The statistics that Qminder provides also helps to understand what issues an individual employee has. Working as a customer service rep at LHV presupposed great mobility; naturally, this raises the question of great pressure and whether employees can handle their workload.
"Qminder app is a little addictive," Kristel confesses. "It provides so much data, and makes it easy to jump in at a critical moment and help out a colleague in need."
The customer experience feedback loop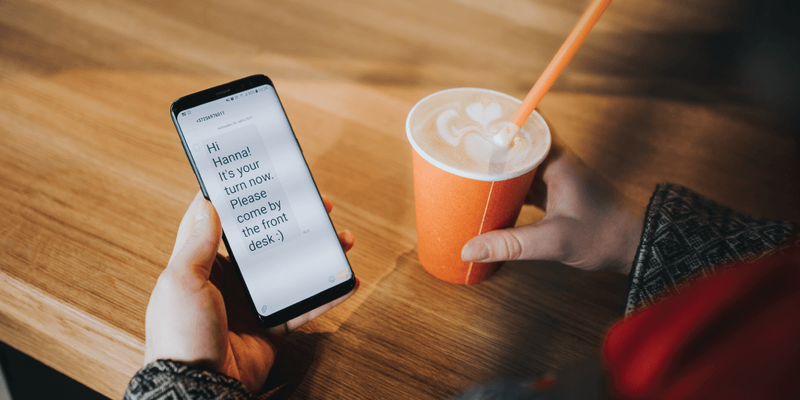 Informing customers is how you let them feel in control
Customer experience is a two-way street, and improvements to service are best achieved through customer feedback. LHV is sending brief surveys to randomly picked customers to understand what went right and, more crucially, what could have been done better when they received service.
When seeking customer feedback, LHV found that it was better to provide customers with the ability to write freeform opinions, rather than force them to assign a score.
First of all, despite the promises of uniformity, scoring systems are not exempt from bias. One person's grading scale can be vastly different from another person's, and what makes for an adequate score in one case is deemed above or below average in another.
Secondly, when feedback is freeform, it encourages customers to analyze their own experiences before committing them to paper. A simple score cannot properly summarize the pain points a customer had to experience, neither does it help with adequately assessing the interactions with staff.
LHV is also conducting mystery shopping to assess the quality of service. A trained mystery purchaser gives a detailed overview of the service process, to help determine which parts of it need improvements.
---
If there'd be one way to describe LHV's customer service, it would a well-oiled machine with a human heart beating inside. What sets LHV apart from other banking institutions, not only in Estonia but around the world, is their borderline obsession with investing in a better experience for both their clients and employees.