Mowasalat: Effectively Handling Over 7,000 Drivers
How one of Qatar's largest transportation companies proactively supports its employees
With Mohamed Morsy, Senior Applications Analyst at Mowasalat
---
To keep up with the increasing workforce, a transportation solution provider Mowasalat uses Qminder to support their 7,000+ drivers.
The new queuing system is key to Mowasalat's improved approach to managing its employees and helping them efficiently resolve their issues and requests.
Meet the Mowasalat Team
Who: Mowasalat
Location: Qatar
Industry: transportation
Drivers: 7,000+
Volume of visits: 100-300 per day
Service team size: 12
Average wait time: <4 minutes
Being a part of the Mowasalat Team is being a part of a better future
Mowasalat is one of the largest transportation companies in Qatar. Since it's been founded in October 2004, Mowasalat has been continuously growing and now boasts more than 7,000 drivers, not counting other employees.
Today, Mowasalat's range of transports includes taxis, VIP limousines as well as public, school and private buses. Additionally, the company offers breakdown services, maintenance, and call-center support.
Mowasalat's goal is to provide efficient and effective transportation in of the fastest-growing economies in the world.
Putting Employees First
In search of a better queuing system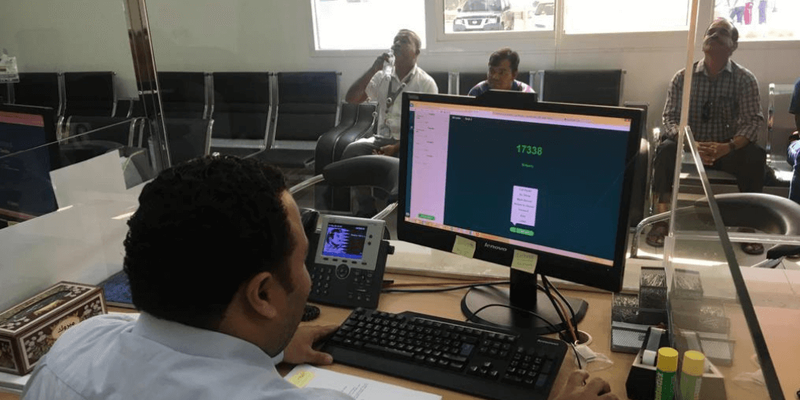 Although 7,000+ people strong, Mowasalat is more efficient than ever
Since Mowasalat operates exclusively in Qatar, its workforce situation reflects that of its nation's. Qatar relies heavily on foreign labor, with foreign workers making up as much as 88% of the country's population.
This high percentage of foreign workers means that employers need to accommodate their employees in a more comprehensive manner. Mowasalat cares about its workers and wants to help them integrate into a new environment.
Previously, Mowasalat relied on multiple departments to separately handle each of employees' issues. This proved cumbersome for both the company and the drivers, who had to go from one department to the other, thus wasting valuable time.
Since 2015, Mowasalat centralized all of these departments into the Employee Relations and Welfare Office, to cut down on the clutter.
The office has eight agents working in shifts on a 24/7 basis, to ensure that the drivers would always have their questions answered and issues resolved. In total, Employee Relations and Welfare Office handles five different types of lines:
Request
Complaint
Appeal
Grievance
Enquiry
Although this solved the problem of time-waste, the rising number of drivers at Mowasalat meant long waiting lines and often unbearable wait times. This called for implementation of a powerful queue management system that would help cut down on waiting and make the process smooth.
The Qminder queuing system proved simple and straightforward enough while offering a wealth of valuable functionalities.
The new layout has drivers signing up for a relevant service on their own. Once they're signed in, their name appears on the screen, where they can track their queue status. Once their turn comes, a notification appears on the screen telling them where to proceed next.
In addition to solving the waiting line management problem, Qminder also helps with making these interactions more personal and friendly. Instead of usual numbered tickets, it uses a name-based approach, which bodes well with Mowasalat's philosophy of treating its employees fairly and with respect.
Each request goes to Mowasalat's internal system via Qminder API. The new queuing system was easy to integrate with existing tools and quickly became an integral part of Mowasalat's operations.
Happy Staff, Happy Work
Mowasalat employees get full support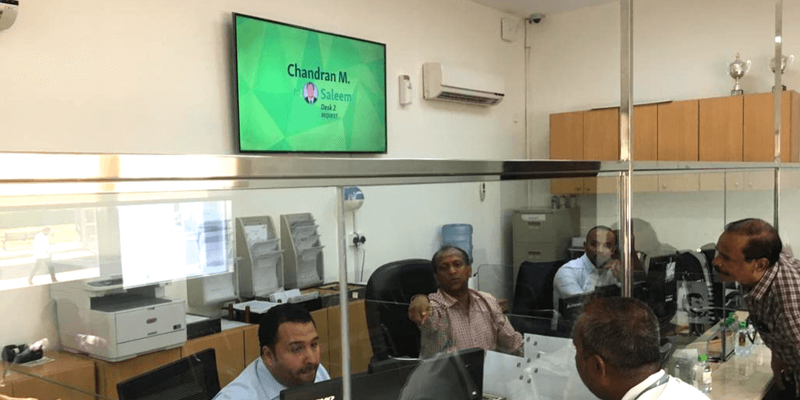 Mowasalat gives employees not only support but also a sense of belonging
As an employer of thousands of people, Mowasalat like no other company understands that employee satisfaction is key to success. It treats its workers as individuals, not an expendable resource, and takes great pains to foster their performance.
As such, Mowasalat has built several employee-focused facilities around its HQ in Doha, including a medical center, fitness gym, and welfare offices. Additionally, the company organizes staff motivational activities as well as programs focused on safety, health and fitness.
On National Sports Day, an annual holiday in Qatar since 2012, Mowasalat encourages its employees to participate in various team events. The purpose of these activities is to promote not only a healthy lifestyle but also team spirit.
One of the reasons why Mowasalat went with Qminder as its first choice for a queue management system is that this system helps improve the performance of employees and get a quick rundown of how they are doing.
Qminder records each interaction and provides performance data over a long period of time, to give a better understanding of which areas need the most help with. As managers get in-depth information about wait and service times, they know exactly what to address and where to concentrate the resources.
Qminder allows to create reports based on the analyzed data gathered via touchpoints, to help keep track of customer service goals and milestones. Mowasalat reports weekly on the total amount of visitors, wait times and service times.
Sustainable Future
What Mowasalat has in store for us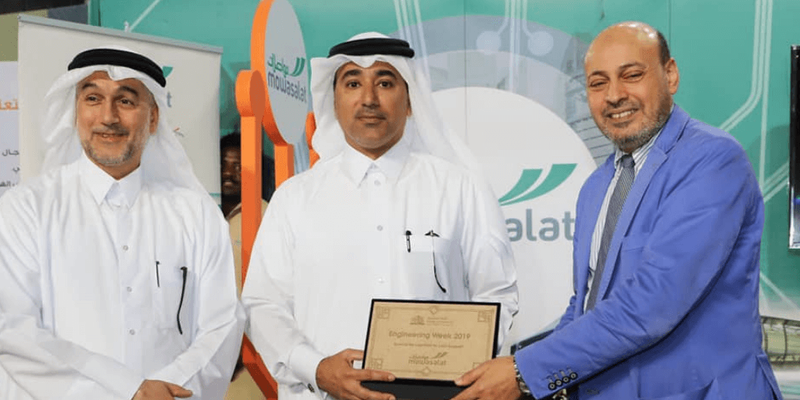 A true innovative company, Mowasalat always looks forward
True to the thematically appropriate saying "A dream without ambition is like a car without gas", Mowasalat keeps its goals lofty.
The company's vision is a bold one:
"To be the first-choice provider of world-class, innovative transport solutions and services, and inspire a legacy in the region."
Innovations are at the top of Mowasalat's agenda: it seeks to further develop transportation opportunities while complimenting the already-existing infrastructure. Mowasalat continues to be the transportation provider for a number of local events, including World Petroleum Congress, Asian Football Cup, Handball World Cup, and Paralympic Games.
By 2020, Mowasalat plans to greatly expand its fleet of buses and taxis — by adding 1,000 and 7,000 more, respectively. Moreover, there are six more national bus stations and 16 depots underway.
The company's focus has also been on sustainability and accessibility. It has already launched the region's first buses that run on compressed natural gas, and provides wheelchair-accessible transportation.
With all this in mind, it is no wonder that Mowasalat won the Best Public Service Provider award in 2017. Although Mowasalat has better goals than to chase after awards and recognition, such prizes are the evidence that the company's great efforts have not been in vain.
---
Mowasalat has shown no signs of slowing down. Their dedication to providing great employee experiences is something that more companies out there need to emulate.
Take a cue from Mowasalat and give Qminder a try.