7 Insanely Powerful Strategies to Manage Customer Wait Times
Businesses across the globe are struggling to manage customer wait times.
Some take it for granted that queues exist, others can't find the right queue management system to implement.
The truth is, a customer waiting experience is one of the biggest factors in deciding whether they want to stay with your business.
Other companies who take better care of waiting times have a competitive advantage over you.
To stay on top of your game, you need to adopt these 7 powerful strategies for managing customer wait times and solving queueing problems.
Let's dive right in!
Tip #1. Set the wait time expectations
One of the better ways to manage customer wait times is to set the right wait time expectations.
Be warned: we don't necessarily mean to simply tell your customers how long they need to wait.
Here's where the "underpromise, overdeliver" motto kicks in.
A simple example of this approach is when a waiter at a restaurant says your meal will be ready in 20 minutes.
If it does indeed take 20 minutes, it's not going to even register in your brain as something out of the ordinary.
(Unless, of course, it takes longer than that.)
But, if the waiter comes back to you with a plate in 10 minutes instead of 20, you will naturally feel special.
That's a lesson for you:
By being more pessimistic with wait time estimations, you can shatter customer expectations and come out on top.
This applies not only to restaurants but other industries, too — including call centers.
A call-center study found that waits that were shorter than expected had a positive impact on customer experience:
"Although an optimistic estimate may reduce upfront abandonment rates, that boost isn't worth the negative experience customers will have when they end up waiting longer than expected."
Tip #2. Communicate with the customer
Keeping the customers informed is another important step in managing their overall experience.
One of the biggest offenders in waiting is uncertainty.
In fact, it's an open secret in the psychology of waiting that explained waits feel shorter than unexplained waits.
Even when we're told exactly how long we need to wait, we feel nervous and tend to expect things to go south.
That's why you need to communicate, or maybe even overcommunicate, with your customers.
By keeping them in the loop, you can reduce the potential frustration even when there are delays or cancellations.
You can probably tell from your own experience that there's nothing worse than learning about these things last minute.
The sooner your customers find out about delays, the better you can manage their expectations and find a solution.
Read more: How to Improve Customer Communication With SMS Text Messaging
Tip #3. Improve the wait room experience
As long as we have physical lines, waiting rooms are here to stay.
To make your customers' waiting experience feel more comfortable, you need to work on the waiting area.
Make enough room for people to sit. Provide a mix of individual seatings and large sofas for multiple people.

Work on accessibility. Provide space for wheelchairs and other mobility aid tools, and put things at an accessible height.

Make things clear and visible. Include signage and floor markings to navigate customers.

Provide distractions and entertainment (more on that below).

Hire a designer. Ask for a specialist's help to create a pleasant environment in your waiting area.
The latter is something that too many businesses tend to ignore.
From layout to furniture to colors — when it comes to creating the right atmosphere, even tiny details matter.
If you work in healthcare, you may need to use colors that inspire tranquility and calmness — hues of blue and green.
In the case of pediatricians, more vibrant and warm colors can have a positive effect on kids.
Test different wait area options and ask yourself, "Do I feel at peace when I sit here?"
Read more: The Ultimate Waiting Room Checklist: 65+ Ways to Enhance Your Space [PDF]
Tip #4. Provide distractions and entertainment
Disney amusement parks are notorious for their long wait times.
For example, the longest verified wait time at the Avatar ride was 319 minutes.
But when you ask a person who's just been there, queues are barely mentioned in their story.
Why?
It's because people at Disney have perfected the strategy of distracting their customers while they wait.
By providing free-of-charge entertainment for guests standing in line, Disney is accomplishing two things:
They market other rides and attractions (a form of in-line advertising).

They reduce the perceived wait time.
The way we perceive wait time is different from how long the actual wait time is.
When we're distracted, it passes by much quicker.
On the other hand, when we're frustrated or angry, five minutes may feel like an eternity.
It feels weird to compare a dentist's office to a Disney amusement park, but their go-to distraction strategy is similar.
The wait areas in clinics are usually equipped with TVs, magazines, newspapers, sometimes even video games — some of the cheapest tools for distracting your attention.
By letting customers shift their focus from their watches to something else, you make them forget they're waiting in line at all.
Read more: Disney and the Art of Queuing
Tip #5. Offer virtual queuing and self-service check-ins
A self-service check-in strategy allows for better, more flexible resource allocation.
No longer required to manage arrivals and check-ins, your frontline employees can focus on providing a better overall guest experience.
This approach has been successfully implemented in hospitality.
Hotels adopt self-service check-in procedures to optimize staff resources and reduce overhead costs.
Their example can be applied to other industries — from financial services to mom-and-pop shops.
Read more: How Investing in Self-Service Kiosks Helps Queuing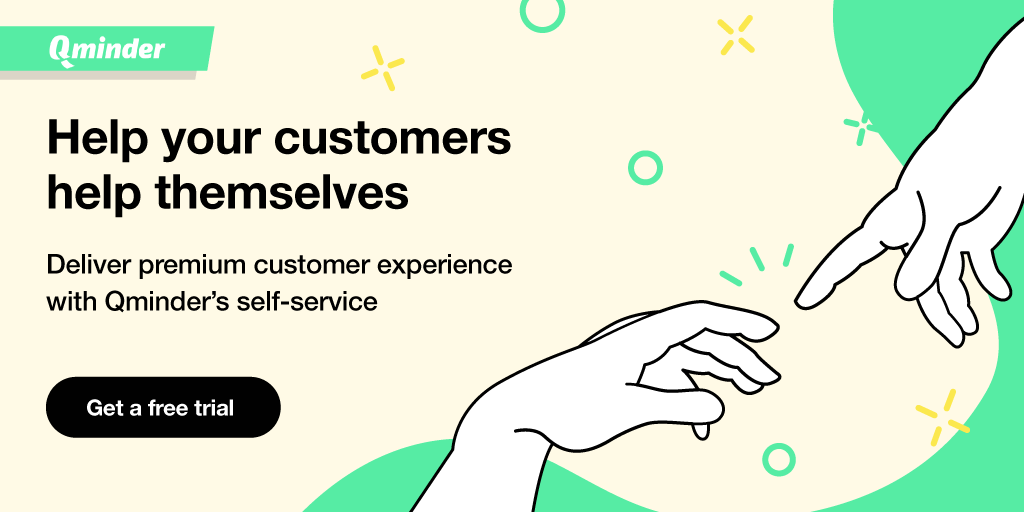 Tip #6. Use queue data to learn more about customers
Your customer-facing staff members can serve clients more efficiently when they are familiar with the customer they are helping.
A virtual queuing system provides staff with relevant information that customers fill out themselves when they check in.
This key information includes, but is not limited to, their names, contacts, details about their orders, special requirements, and more.
For example, if a customer chooses French from the available language options during the check-in, it would be better to pair them up with a French-speaking staff member.
This way, the customer feels cared for and can better express their needs.
Read more: The Power of Using Customer Names
Tip #7. Optimize staffing and improve staff training
The data that queue management systems provide can also be used by management to tackle staffing issues:
Which types of service take the longest
When peak hours occur
Which staff members are underperforming
The latter is especially useful when assessing your staff training needs.
If a location manager sees that a particular staff member is lagging behind in serving customers, it's an opportunity for improvement.
Did you offer customer service training to your employees?
Using this data as evidence, managers no longer need to guesstimate the success of their location's service strategy.
Read more: Staffing & Scheduling With a Queue Management System
Queue management is the key to reducing customer wait times
Customers are hard to attract, and harder still to retain.
By expertly managing customer wait times, you can vastly improve not only their waiting experience but their overall impression.
No matter what type of industry you work in — retail, banking, healthcare or education — you need to take into account your customers' needs.
Reach out to us and we will help you choose and implement the best queue management solution for your business.
If you want to see a queuing system in action by yourself, schedule a demo with us or sign up for a free trial of Qminder.
Your customers will thank you.