Scan COVID-19 Vaccine Certificates With Qminder
COVID-19 vaccination certificates are becoming a key element in safely "reopening" businesses around the world. While the discussion about individual vaccine mandates is going on, some countries in the European Union and few states in the USA are implementing new rules.
Venues and different business locations need to check COVID vaccine certificates, or COVID pass, before letting visitors in. If your business is one of them, you might be having a hard time organizing your floor operations while trying to provide fast service.
Customers don't want to wait in physical lines but with QR codes, they have to line up to validate their vaccine certificates.
With Qminder's new feature, you can let your visitors scan their own COVID vaccine QR code. This feature helps save time for both your customers and your business.
No long lines for checking COVID-19 vaccine QR codes
There are few popular ways to validate vaccine certificates and QR codes are the most common ones. While in New York the Excelsior Pass application helps businesses and venues to validate QR codes, in the UK, the application is called the NHS Covid Pass app.
QR codes are designed to provide contactless and fast service but in this case, they can cause you new physical lines. In some businesses, customers have to wait in double lines, so they enter the line after a greeter validating their vaccine certificate.
So imagine, your visitors come into your location, validate their vaccine QR code via a self-check-in kiosk with an Ipad, and also register to the queue at the same time. Wouldn't life be much easier both for your customers and employees?
All of this can happen without physical contact and long lines in your location with Qminder Ipad.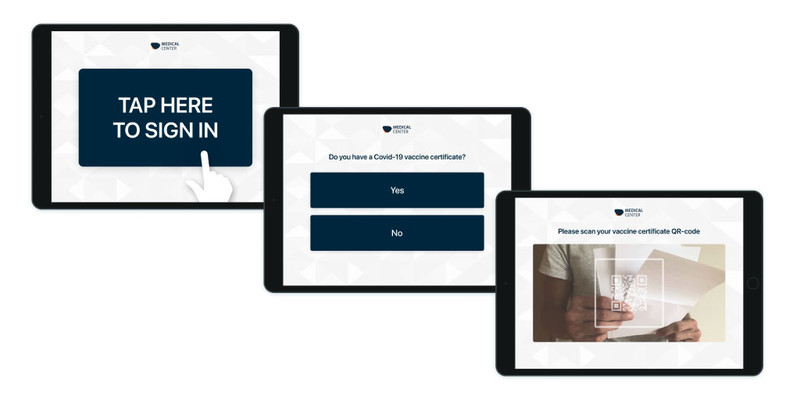 Visitors come to your location and tap on the iPad screen to begin the check-in process. Then, they can scan their QR code using the iPad camera, and continue registering for the queue.
The names of all queued-up visitors are displayed on Apple TV. You can also ask for their phone number during the check-in process so that you could send an automated SMS reminder.
This way, there won't ever miss their turn.
And that's, essentially, how Qminder helps create a totally contactless waiting experience, with much faster service to boot.
If you are already a Qminder user, you can see our guide about how to set up your iPad.
If you haven't used Qminder before, you can start your free 14-day trial right now. Set up your first iPad check-in kiosks in minutes and start testing things.
If you want our help setting up a QR code scan on Qminder iPad, drop us a line! We'll walk you through the entire process.
Allow self-service check-in with questions about vaccine status
If you want your visitors to check into the queue by themselves while also validating COVID vaccine QR codes, you can set up a customized workflow for self-check-ins.
Using the iPad kiosk, customers can enter their names, contact information (especially useful if you are required to save visitors' contact information due to COVID), and answer additional questions.
All of these inputs can be customized by you and added to the sign-in process. You can set up special branches that are activated when a visitor chooses a certain answer.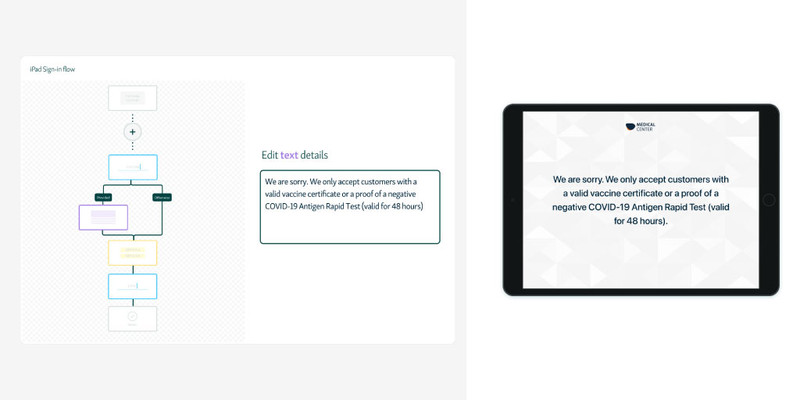 For example: Let's say you added the question "Do you have a vaccine certificate?" to your check-in flow.
If a visitor answers "yes", the check-in process goes on as usual.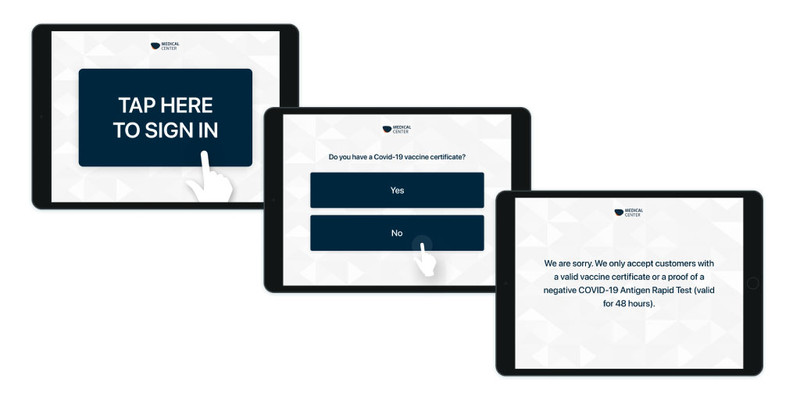 If the visitor chooses "no", you can notify them that you won't be able to serve them today. Or, you can show this message: "Please wear a mask inside. It is mandatory unless you have a vaccine certificate."
If you are able to provide rapid antigen tests, you can also customize the workflow and add visitors to the "rapid antigen test line" automatically when they reply "no".
Vaccine certificates might be presented on a card rather than QR codes in some locations. In that case, you can also set up the customized workflow without the QR code scan.
By understanding which customers are able to show their COVID passes, you greatly increase the speed of your customer service.
For Qminder users: see our support article to learn more about how to set up custom workflows with different branches.
Especially in the past year, we could see that customers are facing many new obstacles due to covid regulations. Businesses that implement digital systems are going to be ahead in the competition.
Try Qminder now and prevent long queues from forming while validating vaccine certificates.